Buying a Cheap MacBook: Where to Look for the Best Prices for MacBooks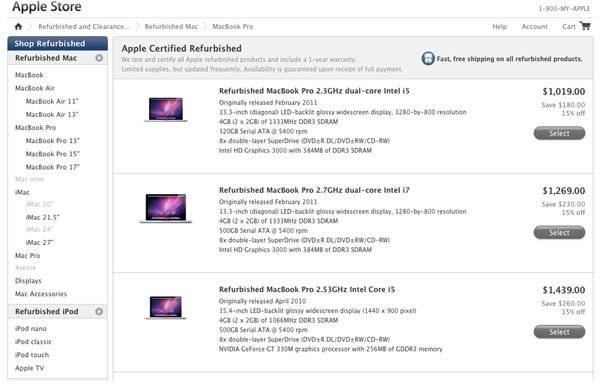 First Things First, Will You Buy New or Used?
This is an interesting question and the answer is purely based on personal taste. In general MacBooks retain their value long after their purchase, making the value for money question a bit trickier. Naturally, if you can find a MacBook in an excellent state with warranty at a discounted value second-hand, this will be a no-brainer. However, MacBooks are delicate items that are not as easy to fix when a problem would occur. Therefore, if you are looking for a cheap deal, you will probably find them out of warranty, which makes the risk considerably higher.
If you are handy with computers, however, buying very cheap out-of-warranty MacBook models might certainly be a good deal. Web resources such as 'iFixit' offer great tutorials on fixing up a MacBook with a flaw and even sell the parts for you. The 'golden rule' here is of course that the motherboard should be in good shape, as it is almost never worth the money replacing this.
For those that like avoiding risks, there is a way of getting as-good-as-new MacBooks for a (slightly) discounted price, with all warranty still intact. In fact, looking for an Apple-refurbished MacBook might be your best option when looking for a new MacBook with a discount. Apple's Online Store has a dedicated section for refurbished MacBook products. These MacBooks have come back to Apple with damage, after which they were brought back to their original state. Here you can find both old and new models with discounts ranging from small in the case of newer and larger with older models. In any case, you get a discounted MacBook in new state with all warranty intact.
Naturally there are downsides attached to purchasing a refurbished MacBook model, however small they might be. The biggest 'risk' is the fact that your preferred model may not be available at the very moment you are ready to purchase. There is also no guarantee that it will ever be available in the foreseeable future. Nevertheless, if you are in luck, a refurbished MacBook model is every bit as good as a new version.
Looking for the Cheapest Place to Purchase a New MacBook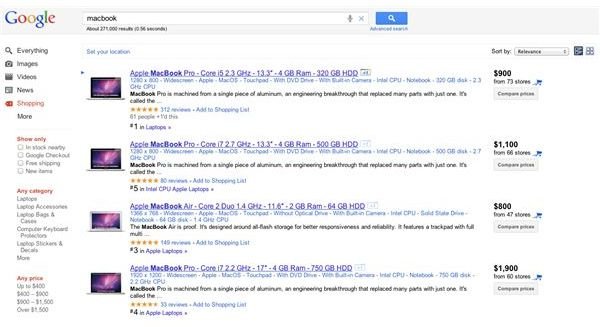 When you set your mind on purchasing a new MacBook after all, there are places to look to get the best deal. Granted, margins are slim as MacBooks are fairly equal priced across retailers. Therefore, you have to search online.
Google Product Search (Or 'Google Shopping') is an excellent tool for finding the cheapest price across retailers online. Google Product Search has all the various Macbook models categorized so that you can quickly find the cheapest shop. As a bonus, Product Search will inform you on 'Seller Rating', 'Estimated Tax and Shipping', 'The Total Price' and 'Base Price'. You can even narrow down the options by selecting your Zip Code or state, so that you can easily find the cheapest option near you (when not a web shop).
However, the real bonus is that Google Shopping will also list older MacBook or MacBook Pro models that have been discontinued by Apple but still carry warranty and are in absolute new state. Some retailers still offer them, as they want to get rid of stock with heavily discounted prices. In some cases this might even be the most economical choice, even compared to Apple's own refurbishment shop. If you are not too picky about having the very latest model, Google Product Search can be an excellent tool for finding relatively cheap and new MacBook models.
Naturally there are always other options when looking for a cheap MacBook but more often than not, these are based on luck as well. If you have patience and are determined to get a good deal you will find what you are looking for, but you have to be proactive. Search around forums and keep up to date on rumors and clearances. You might even want to sign up to newsletters of big retailers to keep up to date. If you pick a good strategy and have the necessary amount of patience, the right MacBook laptop will be waiting for you somewhere at a less-than-full price.
Whatever your preferred method is, a MacBook, whether it is an 'Air' or 'Pro' model, does not have to cost full Apple Store price. It will take a lot of patience, research and timing to cut some costs, but if you find the right deal you could very well end up saving a considerable amount of money, while not compromising on the product itself!
References