Top Cover Letter App for Mac OS X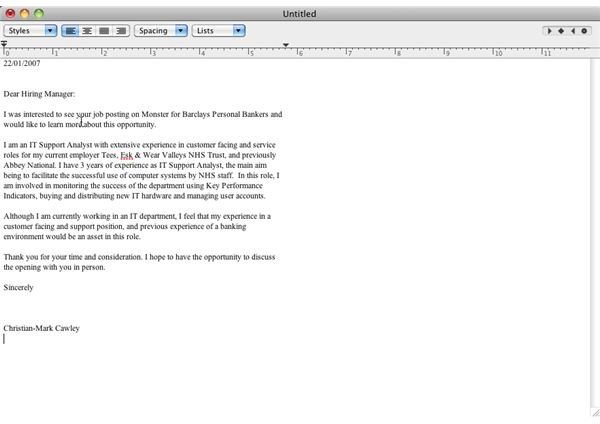 We've all been in a position where we've needed to write a letter. More often than not, a letter is required to accompany a job application, and gives a potential employer the opportunity to get a glimpse of your character before he or she has a look at your resume and the completed application form.
It might not even be a cover letter for a job application; you might be writing a letter of complaint to a business, or simply engaged in regular written correspondence with a friend or relative.
In order to write a letter on your Mac, of course, you will need a word processing application. You're probably aware of applications such as Pages, which comes as part of the iWork suite, or Microsoft Word which is available as part of Microsoft Office: Mac 2011; you're probably also aware that these solutions are expensive, particularly if you're not going to use your word processing app regularly.
So what are the alternatives? Are there any cheaper apps for writing a cover letter on your Mac, or even any native applications that you might be unaware of?
Native Word-Processing in Mac OS X
Rather than head online or to your local computer store to purchase a copy of iWork or Microsoft Office: Mac 2011, you should first spend some time on your Mac looking for a native option, something that comes packaged with the operating system.
It shouldn't take you too long to open the Applications folder and find TextEdit, a useful app that features pretty much everything you would need in a word-processor without spending any extra money.
While the formatting options in TextEdit aren't considerable, all of the basics are there such as bold and italic type, left, right and center justification and a choice of fonts and font sizes. Better still, TextEdit also includes a spelling and grammar check tool. Unless you want extended features for your word processing needs this should provide all you need for creating a cover letter.
Choosing Between iWork and Microsoft Office
Of course, there is every chance that your choice of word-processor for Mac OS X doesn't do everything that you want. While writing a cover letter should be simple enough with most of the options, you might have thought about updating your existing resume, something that might not be particularly simple with TextEdit.
With this in mind, you would probably then take a look at iWork's Pages app or Microsoft Word: Mac 2011 and try to make a decision on which one to use. This can prove difficult; they're two applications that offer a very similar level of functionality. Hopefully our reviews of iWork and Microsoft Office: Mac 2011 will give you all of the details you need to make an informed choice about which app will work for you.
If price is a consideration, however, don't worry – there are alternatives that you can choose from that don't cost the earth.
In fact, they don't cost anything at all!
Open Source Word Processing on Mac OS X
There are two particularly useful open source word processors for Mac OS X which are available to you completely free. Probably the most well-known of these is AbiWord, which you can download from www.abisource.com. This has been designed to be very easy to use but also offers an impressive selection of traditional word processing features, and you would be hard-pressed to tell the difference between a document created with AbiWord and one created in Pages.
An alternative to this is Bean, which can be downloaded from bean-osx.com. Equipped with a sensible user interface and again packed with the usual word-processing tools, Bean will also help you to create a cover letter that meets your requirements.
Cloud Word Processing
Most of us take advantage of our Internet connections by remaining connected all day long, and this behavior has prompted the rise of cloud computing from being an expensive but rarely used feature into a much more affordable option.
The popularity of the cloud has seen various online word-processing suites appear online, from Google Docs to Microsoft Office Live, and both of these tools can be accessed using your computers web browser. All you will need is a Google account or a Windows Live account to take advantage of these browser-based office tools; all documents you create are stored online, but you can still save the results to your computer or print them out just as you would with a standard computer application!
You can find Google Docs via docs.google.com, and Microsoft Office Live via www.officelive.com.
References
Author's own experience.
Screenshot provided by author.