Roxio Toast DVD Burning Guide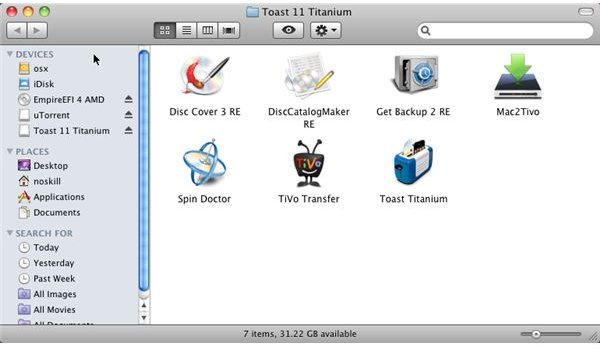 While more and more users are taking advantage of MP3, MPEG4 and other digital formats that can be easily shared and transferred via the web or storage devices with ever-increasing capacities, there is still a requirement for burning data onto optical discs. For instance, you might have a movie project that you wish to share; the best solution for this is often to play it on a DVD player on the family TV, for instance.
Similarly, you might wish to back up a whole load of data, perhaps an iTunes library. Using an optical disc is ideal for this purpose, allowing you to quickly make a backup that can be stored unobtrusively on a shelf or in a drawer.
While Mac OS X has competent disc burning tools built-in, for a more comprehensive set of tools you might consider using Roxio Toast 11, the latest release of the popular suite.
What Do You Need to Burn with Roxio Toast 11?
There is every chance that you might have a copy of Roxio Toast and be unaware of how the software works, particularly if you previously found that Mac OS X already has its own native disc burning tools.
Toast is more advanced than these, however, offering a wealth of options for you to use on your Mac. As long as you are running Mac OS X 10.5 or later on a computer with an Intel processor, at least 1 GB RAM and a further 1 GB of hard disk storage, you should be able to use Roxio Toast without any problems (the Pro release requires 2 GB of RAM and 5 GB of hard disk space). You'll also require an NVIDIA graphics card with 4 GB of RAM for the best performance if you plan on using the VideoBoost feature in Roxio Toast 11.
Additionally you'll need a working DVD writer and some blank writable discs!
Getting Started with Roxio Toast 11
After installation you will notice that Roxio Toast comes with a selection of interesting satellite applications; to burn a disc, however, all you will need to do is double-click the Toast Titanium icon to begin setting up the software.
Once you're done with this (it may take a short while so follow all on-screen instructions through to completion) you will be presented with the Roxio Toast 11 console. Here you can select between different tools: Data, Audio and Video burning, as well as the Copy and Convert tools. Each of these offers a nice selection of options specific to the task that you're performing, enabling you to get the most out of the software.
Interestingly, the DVD burning tool is probably the most feature packed, and is ideal for anyone new to burning discs or those that have years of experience.
Finding Video Files to Burn to DVD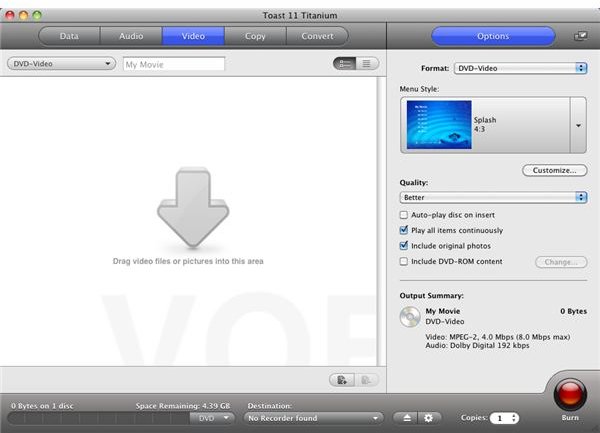 A useful component of the Roxio Toast 11 interface is the Media Browser, a useful mini console that floats on the main interface, allowing you to browse your Mac for video files. Once found, these can be dragged into the main pane to add them to your DVD burning project.
You don't have to be limited to burning to DVDs either. As long as your Mac is suitably equipped you might burn to HD DVD, Blu-ray or the VIDEO_TS format as well as the standard DVD-Video format. These choices are all available via the drop-down menu in the upper left corner of the Video tab, beside the field where you can assign a name to the disc.
As you add files, keep an eye on the Space Remaining total at the foot of the window, and if necessary alter the disc media type just below this total. Your destination disc can also be selected via a drop down menu at the foot of the screen; if you have a single drive then this will be detected by default, but if you wish to use an external device you will need to specify this.
Configuring Your Disc Burning Project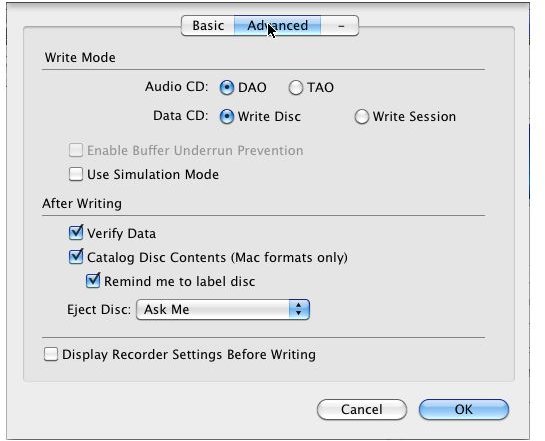 Roxio Toast 11 features a nice selection of Options, which allow you to customize the project to suit your requirements. These are situated on the right-side of the Roxio window, and allow you to begin by specifying the disc format (DVD-Video or HD DVD) before choosing from one of the many pre-installed menu templates. These templates are traditionally difficult to get right, often looking around 15 years out of date once the disc is played, so fortunately there are plenty of Customize… options allowing you to alter the appearance of the menu.
After this, you can select the Quality of the output, where the Best setting will result in a longer burn time than Good, and then decide on whether you want the disc to Auto-play on insert, run through in one go and Play all items continuously, Include original photos attached to the video files and whether there is any DVD-ROM material (such as an executable or a PDF) to be included.
Many disc burning projects are scuttled by choosing the wrong speed, so naturally Roxio includes some settings for adjusting this, accessed via the cog button at the bottom of the window. Here you can adjust the Write Speed on the Basic tab while the Advanced tab features various disc writing types that you can select from. Click OK to confirm any changes here, and return to the main window, where you should note that you can burn multiple copies of the disc using the Copies field.
Once all of your options are confirmed and you're happy with the project, insert your blank disc. It should soon be recognized and all you will need to do to proceed is click the red Burn button.
Minutes later your DVD will be successfully burned thanks to Roxio Toast 11!
References
Roxio, Toast 11
Author's own experience.