The Best Mac Internet Parental Control Freeware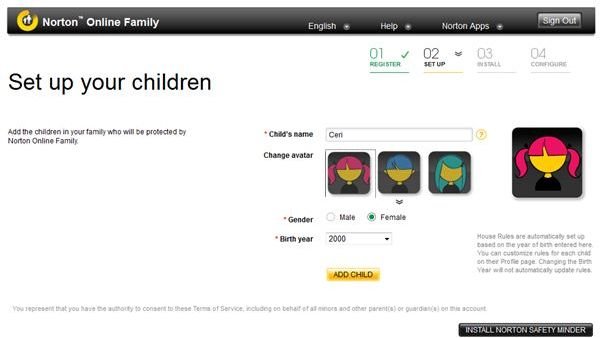 Of all the different types of security software that is available for your computer, the one that can perhaps protect your computer more than any other is parental control software. Ideal for applying restrictions to the use of your Mac, parental control tools are becoming increasingly popular as parents look for ways to protect their children – and indeed their computers – from unsavory websites.
There are many different tools that can be used to fulfill this task, but most of them are pretty expensive. For instance, McAfee Family Protection is a powerful application, but will set you back $50.
Fortunately there are cheaper solutions, ones that will enable you to apply control over how your computer is used to access the web while letting the user enjoy the pleasant side of life online. Several freeware parental control software applications for Mac OS X are available, so let's take a look at them!
Norton Online Family
One of the biggest names in online security Norton's parental control application is a useful service which has a free and premium option.
The free option of Norton Online Family (which you can sign up to at onlinefamily.norton.com/familysafety/loginStart.fs) offers web filtering, time limits, social network monitoring and monitoring of search engine use, as well as a history that you must check every seven days. Configuring the service requires you to register via the link above, register yourself as an adult and add the names of your children before installing the Norton Safety Minder (it can also be downloaded for installation on another computer).
With a 40 MB download this isn't too large an application, and Norton provide versions in Mac and Windows formats so it is easy to include any young users of Windows computers in your household. Once installed, the client application requires a login for each user to access the web, and logs the usage data on the Norton Online Family website for you to view.
KidLogger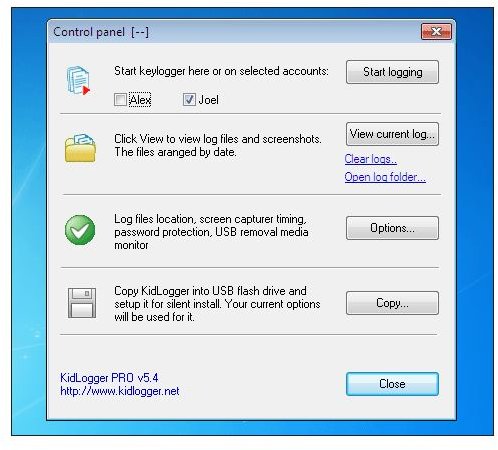 Another free to use choice is KidLogger, which you can sign up for and download via www.kidlogger.com. Describing itself as a "new generation of user activity monitoring software", this service does much of what the Norton Online Family application does, requiring an online signup and installation of client software.
With KidLogger you can monitor users on your Mac, checking their visited websites, record voice and Skype conversations, and manage the use of applications as well as the computer itself.
KidLogger is a popular freeware solution, and the log files are automatically uploaded to the KidLogger website so that you can view them from anywhere – useful if you are out of the house.
K9 Web Protection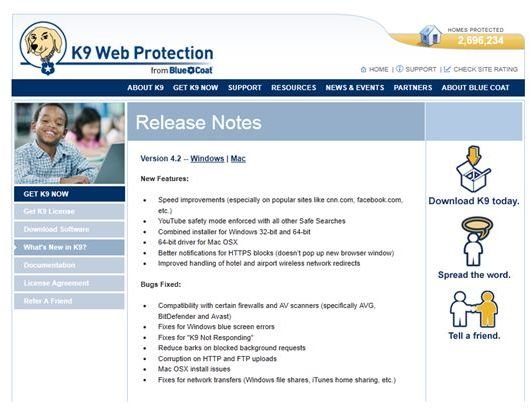 Finally, you might consider this impressive option, K9 Web Protection. Available from www.k9webprotection.com, this freeware parental software for Mac OS X features 70 categories of website blocking, applies safe search to all search engines and allows you to restrict web access to pre-determined times. You can also configure white lists and black lists as well as be safe in the knowledge that new websites that might feature adult or malicious content are automatically blocked thanks to real-time website scanning.
This popular solution is also available for iOS devices such as the iPhone and iPad.
Reasons for Using Parental Control Software
There are various reasons why you might want to use parental control software. For instance, you might like to restrict access to a particular type of website (such as gambling or adult material) or, depending on the application you are using, control when and how the computer is used.
This is where the scale of your parental control software choice is affected by choosing a freeware solution. As you've seen, there are few freeware choices that will allow you to restrict access to your Mac during a certain time period or prevent particular applications from being launched. However, the applications that are available do offer good quality website definitions, allowing you to prevent innocent eyes from seeing material intended for more mature tastes.
On the plus side, if you choose a freeware solution that only exercises control over web browsing you can easily use the native Mac OS X parental tools – but then again, you can use these for controlling access to you Mac and to the web…
Mac OS X Native Parental Tools
Apple has provided a very useful suite of freeware tools in Mac OS X, offering a range of good features from the Simple Finder which displays an alternative version of the OS X finder for young users to the ability to grant or restrict access to specific applications on your Mac. Users can also be prevented from using printers, burning discs changing their password and modifying the OS X dock, and that's just a sample of the features available for controlling Mac computers.
Because the native controls allow you to manage access to your Mac on a user-by-user basis, you're also able to tailor specifics to a particular user account, such as allowing or denying use of Internet applications, restrict access to the web to a configurable whitelist of websites and even apply separate time limits to computer and web use.
References