Is There Such a Thing as Internet Explorer for Mac?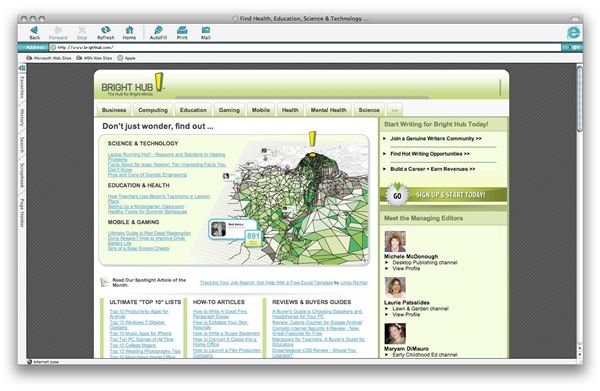 Despite its presence on Apple computers several years ago, there is no current version of Internet Explorer available for Mac OS X. The last version to be released was Internet Explorer 5.2.3, which was discontinued in 2003, prior to Apple moving their computers to Intel processors.
What this means is that unless you have a PowerPC Mac or a Mac that hasn't been upgraded to OS X Lion, you will have no means of running this old version of Internet Explorer for Mac on your computer.
With a wealth of browsing options already available for Mac OS X, however, it is an unusual requirement for any version of Microsoft's proprietorial browser to be used on an Apple computer. As long as you don't have a specific need for Internet Explorer, the chances are that any of the current popular browsers such as Safari, Mozilla Firefox, Chrome, Opera or Camino will meet your requirements without having to revert to old software.
Of course, you might have a specific requirement for choosing Internet Explorer…
Why Would You Need Internet Explorer?
Most Apple Mac users will have no requirement for any version of Internet Explorer on their computer, but web developers are another kettle of fish. Thanks to the constant changes to web standards and the way different browsers implement them, combined with the fact that many users refuse to upgrade their operating systems and browsers until the last minute, there is a need for websites to be backwards-compatible with older browsers. If there is a user out there running Mac OS X5 with Internet Explorer 5 as their preferred browser, excluding them from being able to view the website could be short-sighted.
However, it is just as necessary to check your website design works in current versions of Internet Explorer. As a result, accessing Internet Explorer is necessary. But how can you do this on your Mac?
There are three main ways:
Download and install Internet Explorer 5 for Mac
Run a current version of Internet Explorer in a virtual environment
Utilize an online browser virtualization service.
Let's look at the three options in some more detail.
Download and Install Internet Explorer
You won't find an old release of Internet Explorer in the Mac App Store – the fact is, you will have to visit various "old version" websites to find the right version. One such site is mac.oldapps.com, where you will be able to find Internet Explorer for Mac listed under Browsers. Click the Internet Explorer link to see which versions are available – every version of the browser for Mac OS from Internet Explorer 2.0 (which will require Rosetta to run on a pre-Lion Mac OS X machine) in 1996 through to Internet Explorer 5.2.3 in 2003 is available from this website.
With various names such as Internet Explorer: Mac and Internet Explorer Macintosh Edition, these browsers will deliver very different interpretations of web pages built for a modern audience.
After downloading and installing the browser in the normal way, it will be listed in the Applications folder, ready for you to use.
Running Internet Explorer in a Virtual Environment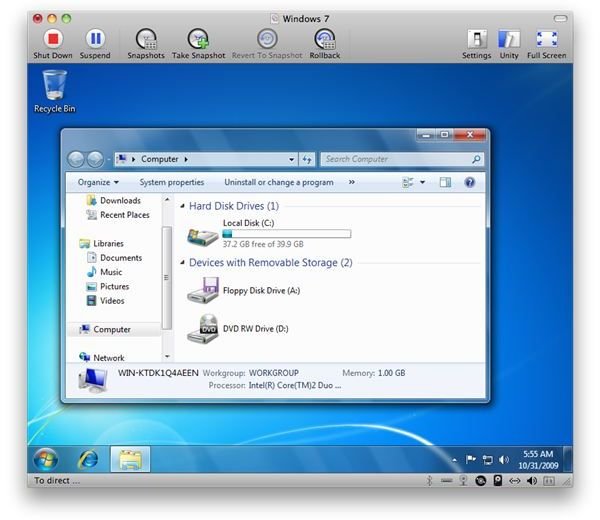 Thanks to the growing number of former Windows users jumping ship and purchasing Apple computers, there is increasing interest in the domestic use of virtual environments on Apple Macs. This allows users to run Windows and Windows applications from their Mac desktop, useful if there are any issues with copying data for use on a Mac, or indeed for web development and design issues.
There are three ways in which you can run a virtual environment on your Mac:
Parallels – this is the most popular solution for Mac users, and offers a wide selection of functions and tools that makes running Windows and Windows software very easy.
VirtualBox – this freeware virtual machine allows you to setup and install Windows on your Mac and run it from within OS X, although support for some hardware and software is limited.
VMware Fusion – capable of providing a fully rounded and complete migration of virtualized PC onto a Mac, VMware Fusion is a popular choice and offers some of the best virtualization options on the market.
Whichever solution you choose, you will need a valid copy of Microsoft Windows with which to run Internet Explorer.
Why Not Try Browser-Based Virtualization?
If you only require Internet Explorer for web design purposes, then struggling with old versions of the Microsoft browser and getting your head around virtualization in Parallels, VMware or VirtualBox might be best ignored in favor of one of the many online tools that will provide you with a virtual version of Internet Explorer.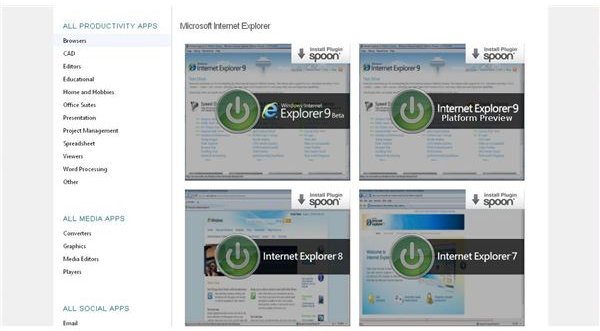 This method really beats spending time installing new software – all you have to do is dial up the right website, select a virtual browser with which to view your web page, and the job's done! The only requirement with these services is that you have your website online already, so you will need to make the site available, perhaps in a sub-domain dedicated to testing purposes.
Three top choices for judging the appearance of a website in Internet Explorer are:
CrossBrowserTesting.com, where a free trial is on offer that allows you to check the results in any browser on any platform, not just Internet Explorer
Adobe BrowserLab where you can once again select any browser and its operating system and get a good look at how your design might look
BrowserShots – this option doesn't offer a live virtualized browser but does take a snapshot of your web page in many different browsers and then display them for you to use as a reference.
While Internet Explorer for Mac is a thing of the past, as you can see there are still many ways to access the browser on your Apple!
References
Screenshots provided by author.
Author's own experience.