Inexpensive Drawing Apps for Mac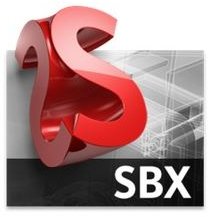 Drawing Apps Don't Have to be Expensive
There are a lot of drawing apps available for the Mac. Many will cost you hundreds of dollars and in most cases those apps are worth every penny. However, those expensive apps often have more features than the average user needs. For a lot less money you can have some great drawing apps on your Mac. Here are a few suggestions.
**
Sketchbook
The SketchBook brand of apps by Autodesk are fantastic and available in the Mac App Store (see link in references). Currently, Autodesk has three versions available. You can get SketchBook Express which is completely free and fantastic. It is a fully functional application that has some fantastic drawing tools and features. You have all the basic tools like pencils, marker, airbrush, pen, and more. You also have the ability to work in layers, which doesn't often come in a free program.
If SketchBook Express isn't enough for your needs you can purchase SketchBook Pro for $59.99 and get a lot more features. When you outgrow the features of Sketchbook Express it is time to move up to SketchBook Pro. You have more tools at your disposal and more customizable options.
If you want a taste of just drawing with Markers on your computer you can try SketchBook Copic Edition. This is also completely free. It is similar to the other two apps but it is markers only.
As a side note SketchBook apps are also available for the iPad and iPhone.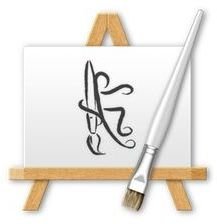 Artrage
I've mentioned Artrage before at Brighthub and it is worth mentioning again in this context. With prices starting at the FREE (yes FREE) Starter Edition up to the $80 Studio Pro edition you can't go wrong with Artrage if you want natural media drawing and painting on the Mac. Each version adds features to the package and I have said Artrage is the cheapest way to get Painter type of software on your Mac. It is that good.
The nice thing about ArtRage is that it has features for all ages. There are stencils and glitter paints for the young at heart and oils and pastels for the more serious artist. A favorite feature of my students is the ability to import a photo as a base or source. You can then paint that photo and have Artrage pick up the colors from the original photo.
I can't say enough about Artrage and highly recommend it. While the Sketchbook series is in the Mac App Store, ArtRage is not. Find the link to ArtRage below in References.
Vector Drawing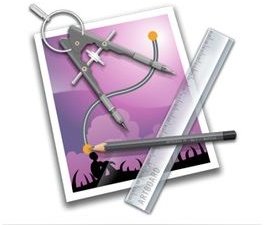 The above applications are more like a traditional paint program. You click the tool and with your mouse (or drawing tablet if you have one) you click and draw. Your motions basically are what control the image that you are creating. There is another type of drawing program that is a little more specific and precise called vector drawing. Adobe Illustrator is a vector drawing tool, while Photoshop and Corel Painter would be considered more of a pixel image editor.
Like Photoshop and Painter, Illustrator is a bit pricey. However, this article is about saving money and for just $25.99 you can get a vector drawing program from the Mac App Store called ArtBoard. I have tried many different low-cost vector drawing programs (some are for sale in the App Store) and ArtBoard is the best. It is the easiest to use and understand and also packed with features that you would expect in a higher priced program. Those moving from Illustrator or another program might have some trouble adjusting to the different drawing methods of ArtBoard while those first starting out will have an easier time. However, once you figure the program out you can produce some great drawings.
Tools of the Trade
While I am on the topic of drawing programs let's touch on drawing tools for the Mac. If you don't want to spend any additional money these drawing programs (and others) work great with your mouse or trackpads. In fact, when I am doing vector drawing I prefer to use a mouse. However, if you want the best drawing experience I suggest getting a Wacom drawing tablet. These tablets range from a simple drawing tablet for under $100 to the high-end tablet that is also your monitor. The great thing about the drawing tablet is it lets you have a more natural experience and many drawing programs support the pressure sensitivity of these tablets. What that means is when you press harder on the tablet the stroke on the screen shows the pressure as if you were pressing down harder on the drawing tool. I love my drawing tablet and prefer drawing with it over the mouse,
Even with a drawing tablet you can have a great drawing experience on your Mac with one of the above mentioned programs for under $100. Happy drawing!
References