Finding the Best Macbook Pro Docking Station

Macbook Pro Docking Station? What Is That?
If you've never heard of a "docking station" before, you're one of the few. The idea behind a docking station has been around for a while, and more recently it has been used in everything from Nintendo game systems to laptops to iPods- but what is it exactly? A "docking station" can be one of many things. It can mean something that merely holds and charges your laptop, it can be a simple stand, or it can be a full-fledged computer extension. Whether you're reading this article looking for the former of the two, the middle, or the latter, I've got you covered.
Take a look at the best ones I could find.
#4: The Rain Design mStand For MacBook/MacBook Pro
Number four on this lists holds this place simply because it's not that impressive: While some people call these things "docking stations", I like to refer to them as "stands". Nevertheless, if I'm going to talk about them, I may as well talk about the best one, right? So here it is, the Rain Design mStand, a piece of metal that does everything in its power to properly support and angle your Macbook so you can use it standing up, or sitting in a rather high chair.
Now, I will say, I have nothing against Macbook stands; there are quite a few people who would find this useful. If you are a DJ, for instance, and you're going to be mixing tracks while standing up, I would definitely recommend this. Or let's say you often do presentations with your computer and need to have it at a good angle this product is perfect for things like that, and the price isn't all that steep for the build quality. Just $50 gets you a stand that can hold Macbooks, Macbook Pros, and probably even other kinds of laptops as well. Just maybe not as snugly.
#3: BookEndz BE-MB13WT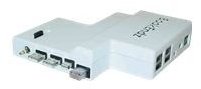 The first of two products on this list from computer accessories company "BookEndz", the BE-MB13WT (rolls right off the tongue, doesn't it?) is the perfect little docking station for you if you're using one of those awesome 13" Macbooks. What the product does isn't quite akin to what full on docking stations do, because it doesn't look much like a station at all, but don't let that fool you; the BE-MB13WT plugs right into the side of your computer and accesses all of the ports that you have available, and then makes them all five times better.
First, it acts as a USB hub, turning your current 2-port layout into a 5-port layout for extra power. Next, it takes the Ethernet port and gives you a Gigabyte Ethernet port from that, and throws on a Mini-Display port so you can plug-in an external monitor. Lastly, it doesn't even take anything up: You get to keep everything you had initially, including the Audio In/Out plugs. Sound too good to be true? Well, in a way, it is.
You see, the only major downside is that you're paying $70 or more for this thing, and while that's a heck of a lot cheaper than paying for each of the services individual, it is a hefty chunk to pay if you only want, say, the extra USB ports. You'd be better off just buying a hub.
#2: Henge Docking Station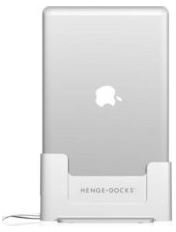 Now we move onto the top two, where the big guns are hiding. The first big gun? This beautiful piece of tech known as the "Docking Station for the 15-inch Macbook Pro" from Henge. Okay, sure, the name isn't the best thing we've seen in the industry, but thankfully we don't rate it based on the name; we rate it based on the tech, and this piece of work gets an "A" for excellence.
The idea behind this Macbook Pro docking station is that it turns your Macbook into a tower computer. Turn your laptop on its side, pop it into the durable plastic stand, and you can hook up keyboards, external monitors, firewire devices, mice; anything you would put on a desktop computer you can hook to this baby. The best part? It's actually cheaper than the little dongle we see above, coming in at just $60 or so online.
#1: BookEndz BE-MBP13SD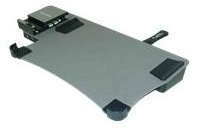 Are you a musician? A business person? Or maybe just someone who has to take their laptop with them a lot, but as a lot of external devices that they use at home. Until now, bringing your laptop somewhere meant unplugging all of the devices you had attached to it (printers, scanners, keyboards, mice, MIDI devices, etc), letting the cords sit there, and then replugging everything back in when you got home. It was a hassle, to say the least, but not anymore thanks to the BookEndz BE-MBP13SD.
I know I sounded like an infomercial just now, but I'm serious: If you attach things you your computer at home that you don't bring with you on the road, you'll want to buy this. How it works is simple: When you set your laptop on it and close the latches, it re-routes all of the ports (audio, USB, ethernet, etc) into a back hub that you can plug all of your devices into. When you want to bring you laptop someone, just fold down the latches and bring it with you all of the devices stay plugged into the dock itself, so when you come back all you have to do (once again) is set your laptop into the docking station and turn it on.
It is, most certainly, the handiest device on this list, because it essentially turns your laptop into a desktop computer that you can take with you should you so desire. Pretty awesome if you ask me. And the price? A little steep at around $230, but nothing that isn't worth it.
References
[Image/Information] Product Page, Rain Design mStand, Page Link
[Image/Information] Product Page, BookEndz BE-MB13WT, Page Link
[Image/Information] Product Page, BookEnds BE-MBP, Page Link
[Image/Information] Product Page, Hedge Docking Station, Page Link