Looking for a Useful OS X Utility to Find Duplicate Files? Here Are Some Top Freeware Options!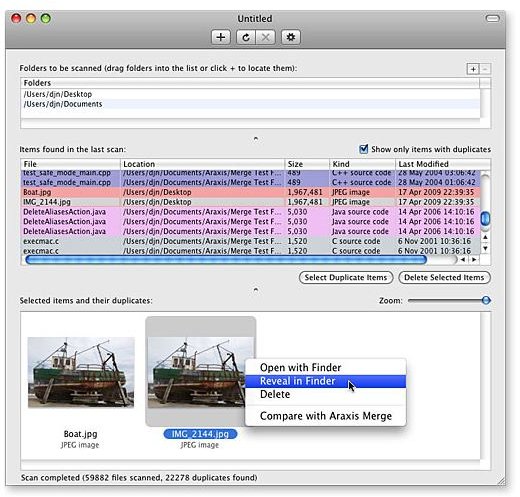 Whether you're an avid iTunes user or simply interested to know how many copies of a particular text document exist on your Mac, being aware of what software is available to detect duplicates can save you a lot of time in the long run.
For instance, you might have multiple versions of your favorite MP3 files, or have backups of your most vital documents several times over. These files will all be taking up vital space on your hard disk drive, thereby strengthening the case for detection and removal. If you absolutely have to keep copies of your most treasured data, storing this on a different device would be far safer.
Duplicate files can be found on Mac OS X with a freeware utility designed to scan for similar file types, file sizes and contents. These tools are largely free to use, certainly initially, and could save you hours of manual searching.
What Constitutes a Duplicate?
Duplicate data obviously describes a file that is identical to another – but how identical?
After all, it isn't unheard of for text documents or photos to be given the same name by design or by default, and some of these might even have the same file size.
On the whole, duplicate scanning tools usually look for the following:
File name
File size
File type
By narrowing down any potential duplicates to these three details it shouldn't be too hard to identify and remove the files that you would prefer to discard.
Obviously, as these things could be repeated across different folders for a reason – you might have an archive folder, for instance, or you might be scanning a Time Machine backup – you will need to be careful when using a duplicate checking tool that you don't inadvertently remove the wrong data.
Two particularly useful duplicate checking tools are available for Mac OS X.
Finding Duplicates with Araxis
Available from www.araxis.com/find-duplicate-files, Araxis is a small 2.1 MB download that gives you seven days of free use once installed (after the trial is up you will need to pay to use the app, around $12). You can also download Araxis from the Mac App Store.
After installation, you will find that using this tool to find and duplicate files is particular easy, thanks to its simple user interface. The + symbol is used to add a new location on your Mac for the software to scan, while the refresh button will start the search for duplicates.
Meanwhile, the cog button opens the Preferences window, which can be used to tailor your duplicate file searches to specific file types, adding or removing file types using the + and – buttons.
It is also in the Preferences window that you can select how files can be deleted. The safest option is to move them to Trash so that they can be checked later, although you might prefer to completely discard them from your system.
Image credit: https://www.araxis.com/find-duplicate-files/index-gbp.html
Duper Finds Identical Files On Your Mac for Free
If you're looking for an absolutely free OS X utility for finding duplicate files that doesn't require you to pay a fee after the trial period is up, you should try Duper.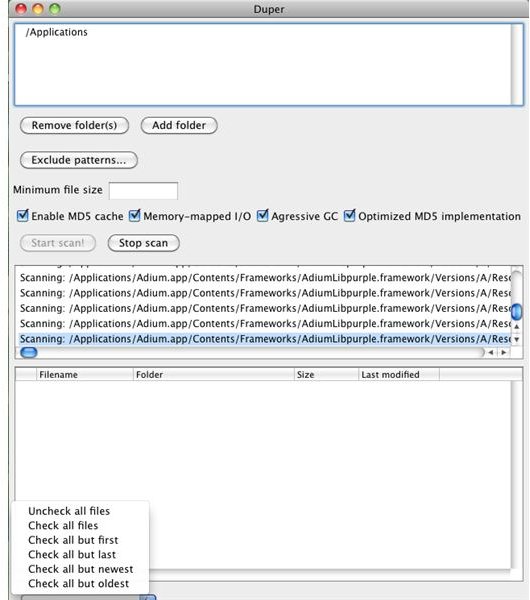 This is a totally free open source tool that can be downloaded from the developer's website at dll.nu/duper. Once installed, the utility can be instructed to scan specific folders using the Add folder button (anything added in error can be dropped using Remove folder(s)), and using the Exclude patterns… button you can make use of regular expressions to skip any data that you don't want included in the scan.
You can also specify a Minimum file size as well as toggle various caching options, and the scan is started with the Start scan! button. You can check which files are being checked in the scan window as the utility proceeds through the assigned directories.
Results are displayed in the lower portion of the window, where you can check files (either individually or in bulk using the drop down menu) and mark them for deletion if necessary.
As you can see, Duper is a very useful tool, and while it doesn't offer the same flexible options as Araxis, it's free, and does the basic duplication scan and check.
In addition to the Mac version, a free Windows and Linux Java version is available on the product's homepage at dll.nu/duper, making this a great choice for uncovering duplicates on all operating systems!
Screenshot provided by author.
References
Author's own experience.