The Top 3 Mac OS X Email Archiver Apps

Time to Get Organized
So, you're looking to archive some email messages? It's a wise decision. Too much email can make Apple's default mail client slow, or unresponsive. It makes finding the emails you want all the harder, and also has a bad habit of clogging up your Spotlight search results with files that are not as relevant as you might hope them to be. Thankfully, email archiver apps have been around for a while now to help you clean up your inbox and store your emails safely for future reference. Here are three of the best that do just that.
MailSteward
MailSteward comes in three versions - Mailsteward, the MailSteward App (available from the App Store), and MailSteward Pro. At $19.99 the app is the cheapest of the three, but it is not as feature packed as the other two. However, all versions will archive all your POP or IMAP accounts, save attachments, search through your archive for retrieval, and allow you to tag your emails.
Upgrading to the standard or pro versions of MailSteward gives you advanced search capabilities, including the ability to save common searches. They also give you the opportunity to export or merge your databases and schedule automatic archiving. MailSteward Pro can also handle in excess of 100,000 emails, (the other versions don't), but it requires a MySQL database server.
Fully featured trial versions of each tier are available on the MailSteward website, and although they are limited to 3,000 emails, they will give you a great idea of what you can do with this software. They also have some great video tutorials to walk you through the operation of this Mac OS X email archiver app.
Email Archiver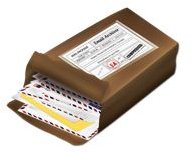 The Email Archiver app from Spot Documents takes a slightly different approach to archiving your Mac OS X emails. It scans through your emails and makes a PDF version of each one so that you have a copy that can always be viewed, or stored for reference, regardless of what email program you use in the future.
If images are embedded into your emails, then they are also saved as PDFs. If you have attachments like Word files, or other such things, they are stored in a folder alongside your PDF email. The first archive may take some time, but future archives only back up emails that have not yet been archived. Emails can then be searched for by the Email Archiver app, or through Spotlight which will of course recognize them as standard PDF files.
It is available exclusively from the Mac App Store, so you will need Mac OS X 10.6+ in order to run this application, and it costs $9.99.
EagleFiler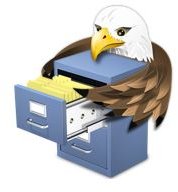 Eagle Filer will definitely function as a Mac OS X email archiver, but it does a lot more besides. It is quite literally a digital filing cabinet for all your data and a very versatile way of organizing and archiving all your files.
It is easy to use with just a quick press of the F1 key needed to import mail messages, or an entire mailbox, into the EagleFiler app. It can even convert Microsoft Outlook messages to a more Mac friendly .mbox format, and it works with Dropbox, MailTags, Growl, Skim and more. EagleFiler can also archive web pages, PDFs, office documents and more.
You can store your email as plain text or HTML, and switch between .eml and .mbox file extensions depending on whether you want to have your archive searchable in Spotlight. Need to retrieve an email from your archive library? EagleFiler has a friendly user-interface that will quickly rifle through your archives until you find the message you are looking for.
A 30-day free trial is available if you want to try before you buy. Otherwise, it can be bought outright for $40 from c-command.com or the Mac App Store.
Archive and Transfer
If you are buying a brand new Mac and just want to move email messages from one to another, you do have the option of archiving your email manually, saving it to a flash drive, and importing the relevant mailbox files (.mbx) into Mail on your new computer. Here's how to do it.
Locate the OS X Mail folder by opening a Finder window and looking in the Library folder. In OS X 10.6, right-click, (or Control+click), on the Mail folder and select Compress "Mail", to create a zip file of the Mail folder. (Earlier versions of OS X may instead prompt you to Create Archive of "Mail", but it will achieve the same thing.)
Save your zipped Mail file to a USB flash drive and transfer it to your new computer. Unzip the file and transfer its contents to the Mail folder on your new computer. Now open the Mail app to view your messages.
References