Three (3) Methods for Converting Graphic Files on the Mac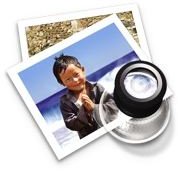 Method 1: Convert File Types in Preview
If you ever find yourself in need of changing the format of a graphic file, there are numerous ways you can do this on your Mac. You can open Photoshop (if you have it) and resave the file, you could import a file into iPhoto and export it in a different format (assuming iPhoto can read the original file), or you could use a number of other software options out there which are available for the Mac. I'm going to be telling you about three methods in this article. One uses a piece of software that comes with every Mac running OSX. The second use a piece of software that will only set you back $.99. While the third is an online solution.
The first method uses Preview. Preview is a program that can be found in your Applications folder. I like to think of Preview and the Swiss Army Knife for opening graphic files. It can open almost any graphic file you can find. I have even had it open files that Photoshop has had problems with.
Once you open the file with Preview process is easy. Choose "Save As" and not "Save." Save as will let you rename the file, if you choose, but more importantly change the format. In the format drop down box you can choose from a number of different formats to save the file to. Once you are done, the new file will be saved with the new extension and the original file will still be there.
One benefit of Preview is that it allows you to change the quality of certain file types in the event you need something smaller. You can't take a low quality image and make it higher quality (this is true with any program) but it is very easy to reduce the size of a graphic file for the web using this program.
Method 2: ConvertIt for $.99
Preview is a fantastic way to convert graphic formats, but there is even a faster way with a $.99 app from the Mac App Store called ConvertIt. ConvertIt allows you to convert to png, jpeg, tiff, pdf, gif, icns, bmp, and ico formats. In the ConvertIt preferences you can choose which of the options you want available when you convert your file. When you convert a file you even see the options you didn't choose except they are dimmed out.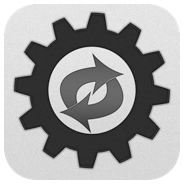 To find the preferences you go to the ConvertIt menu in the menubar (it looks like a little gear with a "C" in it). Choose preferences and you can make your changes. Why limit your options if they are visible anyway? I'm not sure, but that is up to you. My favorite preference settings allows you to only have the menubar icon visible and it hides the dock icon. I really love it when developers do this.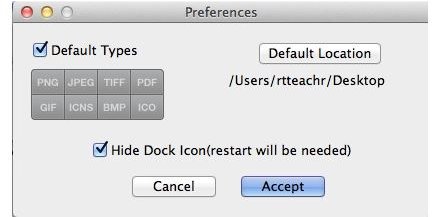 To convert the file you simply drag and drop the file to the menubar icon or the dock icon. Release the button when you see a "+" sign. A window showing the conversion formats will appear, choose the format you want to convert the file to and off you go. If you set it for specific formats only, then only those formats will be allowed. The file will then be saved to the default location which can be set in the same Preference window that you set the conversion options.
I have set ConvertIt to open automatically every time I restart the computer. This way it is always available to me as I tend to convert a lot of files.
Method 3: Use an Internet Based Converter
If you don't like the two methods above, or you are at a computer without access to Preview (ie. Windows) you might want to try an online solution. These solutions are easy to use and numerous. Just by searching the Internet for "online graphic converter" gave me many results.
One result was at www.coolutils.com/online/image-converter/. This looked like a very straight forward system. You upload the file from your computer, choose a format, press convert, and then you download the final version. You can even change the quality of the file when it is converted.
These sites do have disadvantages. First, be prepared for ads, especially if the site is free. Speaking of free, be sure there is not a cost you will be asked for before you download the file. Second, if you are concerned with privacy this might not be the way to go. Finally, these sites might be limited in the types of formats they can convert to. You will probably get the basics, but a program on your computer might do more for you.
Whichever method you choose to convert your graphic files into different formats, you are not short on options. I am sure searching the Internet or Mac App Store will give you even more. If you have a favorite method or program for converting image files feel free to post it below.
References
Article based on author's experience.
Screenshots by the author.
ConvertIt can be found in the Mac App Store.