In Need of an Apple USB Network Adapter?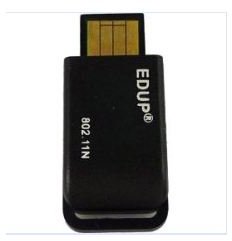 BrainyDeal Mini Wifi USB 2.0 Adapter
So you really want to get online, but you really don't want to have to spend any money. Perhaps you didn't get that raise you wanted, or you just don't have the perfect career for you. Well have no fear, because there is a wireless network adapter option for you! Coming from BrainyDeal is a miniature (the size of a flash drive, if that) WIFI adapter that utilizes the USB 2.0 ports on your computer to ensure a fairly fast connection no matter where you are in your house. The best part? It's only $10 online, or around $15-$20 in stores.
There is a downside though, and it's fairly big. A large chunk of Mac users have reported that the drivers that came with the USB device came on a mini CD-ROM, which is unreadable in a lot of standard Mac drives. That being the case, you have a couple of options. Number one, you could get the drivers online and then hope that they work with your computer and your model of the wireless adapter, or number two, you can get an external disk drive and read it through there. Honestly, buying this alongside an external disk drive would actually probably end up being cheaper than most of the other entries on this list, but hey, it's up to you in the end.
HAWKING Wireless 150N Adapter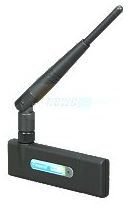 (Man, whoever names these products really needs to step up their game!)
The next item on my list is the Hawking Wireless 150N Adapter, and it's different from the BrainyDeal adapter for two reasons: Firstly, it's more expensive. The product clocks in at just under or around $40, depending on where you buy, which means that you are legitimately paying four times the amount for this as you would for the BrainyDeal counterpart. However, it's also different because it has one very important piece of awesomeness attached to it: An antennae.
Many of you may be under the ridiculous impression that antennae are just an aesthetically pleasing addition to any device, but despite what you're told, they actually serve a very important function: Giving you a stronger signal. This means faster browsing speeds, faster downloads, and a farther overall range that you can move from the router. Sounds great, right?
The only thing that's holding anyone back is the price; is it worth it to you?
Asus Mfr. Part #WL-167G_V3
Continuing our trend of "names that don't even make sense" comes a device titled the "Asus Mfr. Part #WL-167G_V3" (rolls off the tongue,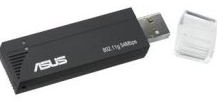 doesn't it?), and it's another wireless adapter that lacks an antennae. This has a clear disadvantage in signal strength compared to the HAWKING, but it also has the bonus of being incredibly compact. Just pop it into the USB port, use it, and remove it when you're done; there's no need to keep it there when you need to travel, and no need to pack away a clunky antennae.
Other problems with the Asus Mfr. Part #WL-167G_V3 include signal strength. A lot of people report that over time, their device loses some of its signal strength, resulting in slower overall connection speeds no matter how far you are from your router. On top of that, the $40 price tag almost ensures that this will be one of the last Apple USB network adapters you try, but hey, it could work for you.
Engenius EUB-3701EXT 11G USB Adapter Detachable Antenna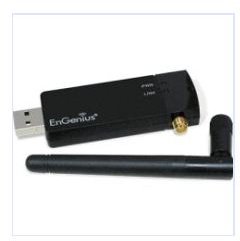 I bet some of you were hoping that I would save a pronounceable name for last, but unfortunately the Engenius EUB-3701EXT 11G USB Adapter Detachable Antenna suffers from all the same problems as everything on this list. Well, okay, just the pronunciation problems, because the device actually does its job pretty well! For just $15-$20, this particular network adapter by Engenius has everything you'd expect: Strong connections, durable construction, and an antennae. On top of that, the antennae is actually detachable, so you get the strength of having one without the hassle of bringing it around!
Additionally, it sports all of the common features of wireless adapters such as WPA/WPA2 Security clearance and WMM support, but it does have one minor downside: A few costumers have reported difficulty actually setting up the EnGenius device, citing that documentation wasn't particularly helpful. If you're not the computer-savvy type and cringe whenever someone asks you to do more than just "plug n play" a device, you may consider a different option or have a friend come over and help you set this one up.
That being said, as far as cost vs. features is concerned, it doesn't get much better than this.
References
All images and information come from the products' respective purchase links, located below.
Purchase Links