How to How to Make a Dvd Image in Mac OS X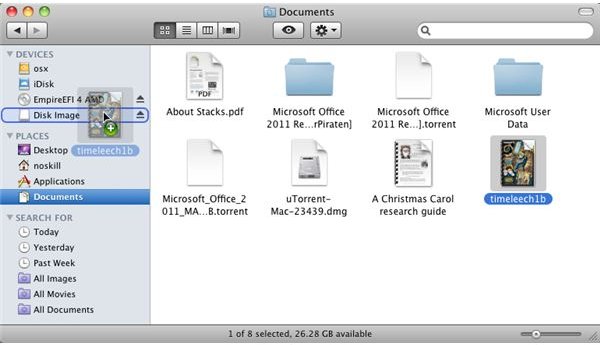 One of the most common uses for a home computer is in ripping, burning and creating discs. Whether you're planning on making a home movie disc or copying data from one disc to another, understanding how to do this correctly using Mac OS X will save you some time and avoid wasting blank discs.
While other operating systems allow you to drag data onto a disc and burn it, Mac OS X actually allows you to create .DMG images for burning data that can be read on a Mac and .ISO for burning discs that you might run under Windows.
Both of these features are available by default in Mac OS X – you don't need any additional software, although if you're planning to burn the data after conversion (alternatively you might prefer to archive the data in this format) then you will find that a DVD burner is required to make this possible.
Disc Types You Can Use
Depending on the age of your Mac, You may encounter difficulties burning images to certain types of optical media. This will depend on the age of the Mac, the model and whether or not you use the original internal disc drive or you have a more up-to-date, external drive.
For instance, some older Mac computers don't support DVD-RW discs, whereas external devices are more likely to support all writable and recordable optical disc formats.
We've already discussed the possibility that you might be burning data for use on a Windows computer, but you'll be glad to know that whichever disc media option you choose, any of the recordable and rewritable DVD and CD media types can be read on a Windows computer, assuming that it is equipped with a suitable and up-to-date disc reader.
Creating the Image
If you want to make a DVD image in Mac OS X, begin by finding the data which you wish to convert to this format, and group it together in a single folder in a location that you will easily remember in a few minutes time.
Next, open Applications > Utilities > Disk Utility, and use New Image to create and name a new .DMG file. When this is created, it will be automatically mounted, so using the Finder drag the folder you created previously onto the new .DMG, which you should find situated on the left-hand side of the Finder.
Back in Disk Utility, you should see that the data you added is listed under the .DMG image. With the image selected, go to Images > Convert… and Save the image with a meaningful name, adding the file extension .CDR, selecting DVD/CD Master as the Image Format.
Currently, you have a .DMG file, and this can be burnt to a recordable or rewritable CD or DVD, depending on the size of the image file and the capacity of the disc. However, if the data you are creating a disc image for is something that might be read on a Windows computer, you will need to convert to the .ISO format.

Fortunately, this is what the .CDR is, but you will need to change the file extension to reflect this. In the Finder, use the eject button to unmount the image, then right-click and select Get Info. Here, find and expand the Name & Extension field and add the .ISO extension. You will be asked to confirm this action, and once you have done so the image will be ready to use on a Windows computer.
Burning a Disc Image
Once you have prepared and created your ISO or DMG image, you will be able to begin burning it to disc. This is really easy to do in Mac OS X, and you should begin by inserting a blank disc of a suitable capacity.
With the blank disc inserted in your Mac's drive, right-click the ISO or DMG image file in the Finder and select Burn "[IMAGENAME]" to Disc…. Mac OS X will then ask you to insert a disc of suitable capacity, and you should follow any onscreen instructions to complete the process.
Selecting the right disc depends on the size of the data image you created. If the image file was under 750 MB then you should use a recordable or rewritable CD; anything bigger, choose a recordable or rewritable DVD. You can check the size of the image by right-clicking the unmounted image file and selecting Get Info. Under General you will see the size of the data, allowing you to choose the right optical disc type.
References
Author's own experience.
Screenshots contributed by author.