Touch Screen Monitors for Mac Computers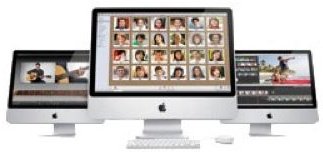 A Word to the Wise
If you think you're in the market for touch screen monitors for Mac, make sure you know exactly what you're getting into. Often times things aren't what they seem, and in the case of touch screen monitors, this is all-too often the conclusion that people end up drawing. The things you need to watch out for include price, style, and compatibility. All of these things can turn what is an exciting day of upgrading your computer into a disappointment for the ages.
Shop smart, shop prepared, and above all, have fun.
TrollTouch
When it comes to touch screen monitors for Macs, the market share held by most companies is pretty large. This is due to the fact that, at the end of the day, there really aren't that many companies making touch screen monitors for Apple products (save for, you know, the built in touch screens on iPhone and iPad). This means that anyone who makes anything compatible with Macs gets a lot of attention. This is where TrollTouch comes in. TrollTouch is a company that reminds me a lot of Apple for two reasons:
- Their products are really high quality and very useful.
- Their products cost a boatload of money.
Though, I suppose if you prepared yourself as I had warned you to in the first section of this article, you probably already knew that you'd be spending a lot of money if you wanted the best product on the market. On top of that, if you own a Mac product, you're already use to spending a lot on computer-related devices. That being the case, if you think money isn't going to be an issue for you, read on, because you'll be delighted to see the fantastic products TrollTouch has to offer.
iMac
A long time ago we had eMacs, and as Apple has progressed through using everything from monitor/computer hybrids to traditional towers
, they've finally settled on a design heartily referred to as the "iMac", a true revolution in home computing. The iMac is another computer/monitor hybrid, but it's compact and wonderfully charming, so it leaves one to ask: How could you make this product even better?
By adding a touch screen.
The TrollTouch touch screen fittings for iMac are some of the sleekest products available today for one reason and one reason along: They literally cover your old monitor in a sort of layer that is not a secondary attachment. This isn't a new monitor that's attached by a cord, it is a cover for your old monitor that saves you space and saves you the time of going to the store. One thing it won't save you, however, is money. Buying a new iMac fitted with a touch screen could cost you anywhere from $2300-$3700, depending on how fast you want your processor and how big you want your screen.
Still, you can always just outfit your old iMac with a new touch screen to save some money. Sending in your already-purchased computer for touch screen refitting will cost you anywhere from $900-$1600.
Macbook
Another TrollTouch product is the Macbook outfitted with a fully functional touchscreen, and it works in the same way as the iMac additions: Basically the screen of your Macbook is replaced with one that has touch capabilities, meaning instead of clicking you can just press with your finger wherever you want your cursor to go. It's a remarkably innovative and intuitive way to control your computer, but unlike the iMac upgrades, there is one big difference: You can't buy a new Macbook with a touch screen built in from TrollTouch. The only option you actually have is to send in a Macbook you've already purchased.
Even with this slight downside, however, there is one big advantage in terms of price: It's a flat rate of $700 to get a touch screen plopped onto your Macbook. Of course, with every cheap price comes a big catch: As far as TrollTouch is concerned, you can only get a 13 inch Macbook. None of these 15" business, and definitely nothing bigger. No word on why they have such strict rules when it comes to Macbooks, but they're really the only supplier of this type of business, so you can't really complain!
Cinema Displays

If you're looking for something bigger and something separate from your current monitor, TrollTouch has you covered in that regard too. Ranging from 20 inches all the way up to a massive 30 inches they supply what they refer to as "Cinema Display Touch Screens", and if you have the money to do it, you can install them yourself OR have them installed by the company. Prices range from $600-$3800, depending on size, what platform (Mac or Windows) you want, and whether you want it installed or whether you'll install it yourself.
Purchase Links/References
Images and Information comes from products' respective purchase links.
Purchase Links