LaCie Portable Hard Drives For Mac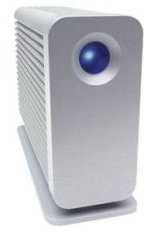 Why LaCie? Why External Drives?
If you're unsure what an external hard drive is, look next to your computer at that little flash drive you have there. How big is it? Maybe 1GB? 2GB? Perhaps 4GB at the most? Well, take that idea (a portable storage device) and make it about a thousand times bigger. That's what an external hard drive is.
Usually they're about 1TB (1000GB) in size, roughly the physical size of a sandwich, and are quite a bit pricier than flash drives. So then what's LaCie? It's a company that makes external drives, and it has three that will make you wish you needed one.
LaCie Little Big Disk
What do you get when you cross functionality with a ridiculously awesome name? You get the LaCie Little Big Disk, of course! A portable hard drive that sports the most up to date technology available today, large storage size, a sleek design, and looks great on the desk next to your iMac, Macbook or Macbook Pro. But how about specifics?
Let's say you're someone who doesn't really like carrying around a lot of heavy, honkin' machinery.That's understandable, and thankfully, LaCie understands your plight. With the Little Big Disk, you get a full sized, 1TB hard drive that is completely bus-powered, meaning you don't need to bring any extra cords along with you. Plugging in the very easy USB 3.0 cord from the drive to your computer allows full use of it– no power cord necessary.
Another great addition of the LaCie Little Big Disk is the fact that you can chain multiple drives together to separate various files. If you're a photographer, let's say, and you need one drive for unfinished photos, one for finished photos, and then a backup drive for your main internal hard drive, you can just chain three of the LaCie hard drives together and you'll no longer have to worry about storage issues and separation ever again.
Lastly, it supports the incredibly high speed USB 3.0 ports on your computer, but also has 2.0 support if you require that. The only downside to the device? The price. It can range from $150-$250 depending on where you buy, making it an expensive addition to your external hard drive collection.
LaCie Rugged USB 3.0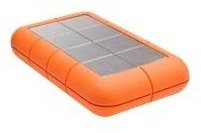 So let's say you're a little picky with your computer accessories. That's fine, because LaCie can accommodate you there as well The Rugged USB 3.0 drive that they built is all kinds of awesome for a few reasons. Firstly, it's really, really rugged, durable, strong, and hard-to-break; whatever you want to call it, this thing is well built. Of everyone who's owned it, I've never heard a single case of someone actually physically breaking their drive, which is in-part due to the fact that it's built from high quality aluminum.
Thankfully, the Rugged Drive isn't just about being durable, though. It's also incredibly useful for it's functionality as well, which includes USB 3.0 support and a speed that's so ridiculously fast it puts all other portable hard drives I've written about to shame. Up until now I've only really seen 2GBPS (gigabytes per second) external drives, but with this one we get all the way up to 3GBPS, which is pretty amazing considering its size and price.
But, of course, not all good things can last forever. This hard drive, while awesome, does have its flaws, and they mainly come in the fact that you need an external power source to use it. There's no hub-power with this device, and while that would normally be fine, a lot of users are reporting faulty power cords, meaning they have to ship them back (at no charge, of course) and get new ones.
LaCie Skwarim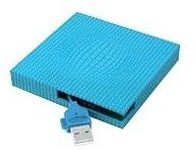 With one of the goofiest names ever to grace the computer accessories industry, I just had to see what the LaCie Skwarim was all about. For a division that normal only does the biggest and brawniest external hard drives available on the market, the Skwarim seems a bit odd to see on a product page filled with things like the "Rugged" USB 3.0 and "Quadra" disks. Nevertheless, it's there, and it fills a niche in a market with very few: small external hard drives.
Now, I don't just mean small in terms of capacity- which it is, at just 60GB- I also mean small in terms of physical size. The Skwarim is a teeny little device, about the size of a saltine cracker, and it is completely powered by the hideaway USB cord on it. Basically, it's the perfect "use it and toss it in your pocket" hard drive available.
The only problem? It's more of a giant flash drive than a true external hard drive unlike the other LaCie portable Mac hard drives, which makes the $100 price point a little steep for some consumers.
References
All images and information come directly from the products' respective purchase links.
Purchase Links