MacBook Pro vs. MacBook Air - What's the Ultimate MacBook?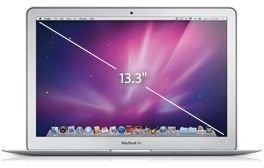 Apple Laptops
In the article MacBook vs. MacBook Pro, we discussed several benefits of two of Apple's most popular laptops. However, the MacBook Air has come along way. Because both the Pro and Air have similar price ranges across the board, it's often times difficult to decide which laptop to get.
Screen Size
Let's start off by analyzing the screen size options.
The MacBook Pro is available in:
The MacBook Air is available in:
Both have LED backlit screens. Both come standard with high-resolution glossy widescreens. However, the MacBook Pros 15-inch and 17-inch have an antiglare option.
Easy way to decide based on screen size?
If a matte, antiglare screen is a must have for you, go with the MacBook Pro in 15 or 17-inch. The glossy screen bothers some people, and because the screen is an important part of the experience, buy the antiglare if that's what you prefer.
If you want something ultra portable that doesn't take up a lot of space, consider the MacBook Air 11-inch. It surprisingly features a full-sized keyboard, so it's no netbook.
If you are dead set on a 13-inch version, proceed to the next section.
If you want a laptop with a screen size greater than 13-inches, go MacBook Pro.
Build Quality
Both the MacBook Pro and MacBook Air are made of precision aluminum, and they both have a unibody enclosure. This makes them quite durable. Both the MacBook Pro and MacBook Air are built with similar materials, so this one is a tie.
Ports and Expansion

The MacBook Pro offers the following ports and expansion features:
Gigabit Ethernet
FireWire 800
Thunderbolt
2x USB 2.0 slots (3x USB 2.0 slots - 17-inch)
SDXC Card Slot 13-inch, 15-inch (Express Card/34 slot - 17-inch)
Audio in/out 13-inch (dedicated audio in/out 15-inch, 17-inch)
The MacBook Air offers the following ports and expansion features:
2x USB 2.0 slots
Audio in (Headphone)
Integrated microphone
SD Card Slot (13-inch)
Mini DisplayPort - Soon to be Thunderbolt Port
The Pro has a built-in SuperDrive CD/DVD burner. The Air has no built-in drive, but a USB powered external SuperDrive is available.
Go with the Pro if you need any kind of external connectivity options. If you plan on connecting any devices to your laptop at all (other than USB), the Pro is the better choice. If you don't use external devices very often, which most people don't, consider the Air.
Don't let the built-in CD/DVD burner of the MacBook Pro be a deciding factor, unless your burn a ton of CDs and DVDs or play a lot of CDs and DVDs.
The backlit keyboard on the MacBook Pro is nice to have, but it is more of a luxury than a necessity. The screen brightness of the MacBook Air allows you a decent view of the keyboard anyway.
Hard Drive Storage and RAM
The MacBook Pro comes standard with a SATA hard drive. However, you can choose to upgrade to a Solid State drive during checkout, which will give you more overall speed. The MacBook Pro has a storage capacity of over 750GB in SATA form, and a storage capacity of up to 512GB in solid state form, when configured in the Apple Store.
The MacBook Air comes standard with Flash memory in 64GB, 128GB, and 256GB configurations. Built-in flash memory is much the same as having a solid state drive, and much quicker than standard HDD drives.
The difference here is that Flash memory comes standard with the Air but a solid state drive does not come standard with the Pro. Choosing a solid state drive with the Pro will up the price significantly at checkout.
If you want capacity go with the MacBook Pro. Whether it be SATA drive of solid state drive, there are just more options on the market for expandability, even if you choose to not purchase an upgraded hard drive from Apple.
If you want hard drive speed, go with the MacBook Air. The Flash memory that comes standard is lightning fast, and has been known to boot from power-off in around 10 seconds. However, capacity is very limited.
Do not let RAM memory be a contributing factor in which laptop your purchase. RAM is cheap, and with a bit of research, you can upgrade the RAM in either one of these laptops. Do consider however, that the MacBook Air has a lower RAM maximum (4GB) than the MacBook Pro (8GB).
Pricing
The MacBook Pro lineup ranges from $1,199 - $2,499 in price.
The MacBook Air lineup ranges from $999 - $1,599 in price, making it slightly more affordable.
The 13-inch models are priced at:
MacBook Air 13-inch: $1,299 - $1,599
MacBook Pro 13-inch: $1,199 - $1,499
In this case, the MacBook Pro is slightly more affordable, but he Pro is costly when you order the larger screen sizes.
Pro and Air
Both are awesome laptops that have pros and cons. If you want portability, the Air is the obvious choice. If you want power, the Pro is the obvious choice. Hopefully, the above guide has highlighted some valuable points that will help you make an informed decision when choosing between the MacBook Pro vs. MacBook Air.
If you are considering getting a PC instead, check out this article.
References
Author Experience
Images are screenshots, courtesy of author.
This post is part of the series: Which Apple Laptop is Right for You
While Apple only manufacturers three major notebook lines, MacBook, MacBook Pro, and MacBook Air, each notebook like consists of several specific models and options. This series helps you determine which Apple laptop is best for you, based on features and comparison.