How to Email Photos in iPhoto '11 from Within iPhoto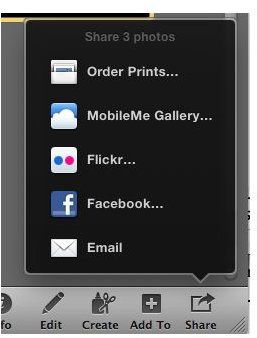 The New Way to Email Photos
One of the many changes in iPhoto '11 is how you email photos. Instead of having photos sent to Mail, or another default email program, you now email photos within iPhoto itself. You can also use stationery with your photos when you email them.
In order for mail to work within iPhoto you have to do a one time setup. Whenever you want to email photos you have to click "Share" at the bottom of the iPhoto screen and choose email.
The first time you do this you will be presented with a screen to set up your email account. Choose your email provider (or other if your's is not listed) and fill in the information about your account on the screen that follows. Depnding on your email provider you will need differing bits of information. This might include username, password, pop server, and maybe more. If you don't know this information contact your email provider or search their online support documents. Once you do this you are ready to email and a blank email will appear on the screen in iPhoto.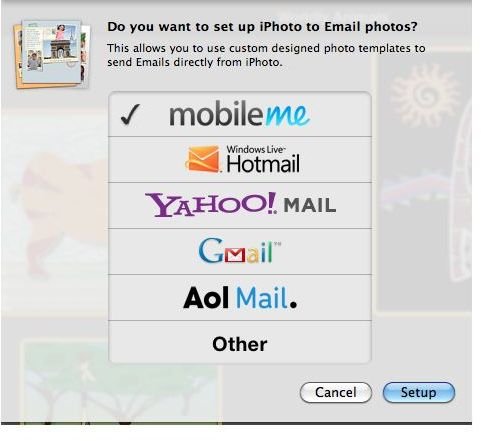 If you ever change you email service or want to add an option to email from a second, or maybe third, provider you do this through the iPhoto preferences. Go to the iPhoto menu and choose "Preferences." Go to the "Accounts" tab. Here you will see all of the accounts that iPhoto can email from. In the lower right hand corner you will see a plus sign. Clicking this button will bring up different options for accounts you can share to within iPhoto. Email is one of these options. Click the email option and the same window shown above will appear. Choose your provider, as mentioned above, and follow the steps to set up the additional account.
The next time you choose to email photos within iPhoto you will have these multiple accounts to prick from in the "From" drop down menu when you compose you email. If you don't want to send the email from the default address make sure you remember to pick the correct address to email from.
You can also remove email address from the list and drop down menu by clicking the minus sign located under the list of accounts.
To the right of the email you will see a window where you can apply a template/stationery to your email and jazz it up. You can also choose "Classic" for a blank template.
At the bottom of the templates you will see an option to attach the photos to the email. This is a good idea to have checked. By checking this option people will get the actual photo files instead of the photos being embedded into the template. For those that have a program that cannot see the template the files will still allow them to see the photos.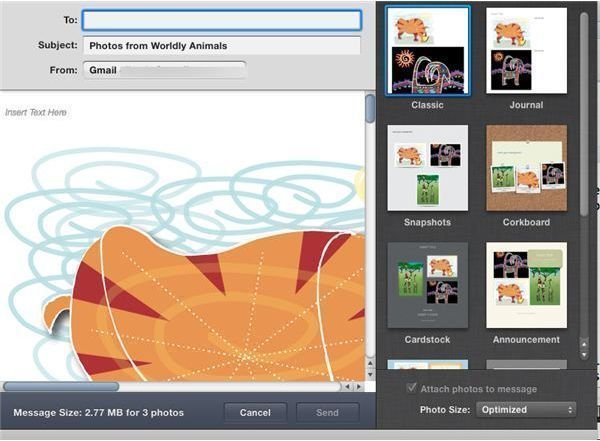 There is also an option under the templates to choose the size of the photos you are sending. Remember, the smaller the size that faster the download. However, smaller sizes will be lower quality and prevent friends and family from possibly printing photos at a larger size.
Once you choose a template you address and compose the email just like you would any other email that would be in a mail program. Hit send and the email with your photos is off to the recipients.
Emailing Photos in iPhoto '11 the Old Way
What if you don't like emailing through iPhoto and you want to send photos through your email program like you could in older versions of iPhoto? You can do that too, and the change is easy.
Go to the iPhoto menu and choose "Preferences." Under the "Advanced" tab you will see a setting letting you pick where you want to email photos from. By default this is set to iPhoto, but the other option in the pull down menu lets you choose another application. Clicking that option will open a window asking you to pick the application you want to email through. Once chosen you will email photos through that program and not within iPhoto.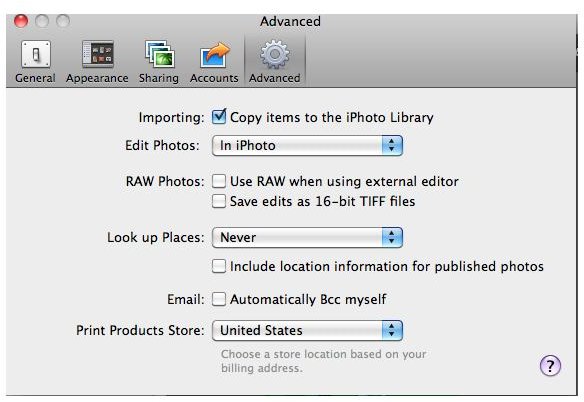 As a side note you might have noticed other sharing options in the "Share" menu when you clicked it in addition to using email. You can also send photos directly to Flickr, Facebook, and MobileMe directly within iPhoto '11. These are easily set up and used also. Like the email accounts, these accounts can be managed through the "Accounts" preference mentioned above.
Whichever method you use to email and share photos within iPhoto, it is still a great and easy way to share photos with your friends and family.
References
• Article based on author's experience
• Screenshots taken by author