Use Fluid to Turn Websites into Applications on Your Mac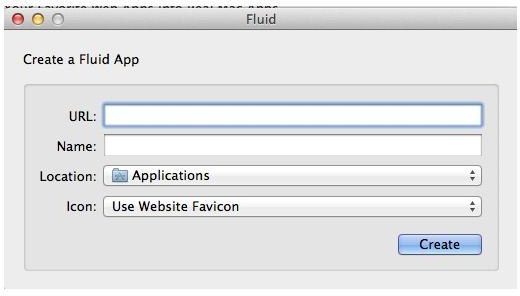 Turn Those Websites Into Applications
Do you wish some of the websites you access on a regular basis could be apps on your computer instead of having to visit them through your web browser? Sure, you can have links on your desktop and/or dock in icon format. You click these icons and the site opens in your default web browser. (You can create these links by clicking the favicon in the URL line of your web browser and dragging it to the desktop). However, what if you could click that icon and have the site open in its own window or browser without having to open Safari or Firefox, etc. With Fluid you can do just that.
Fluid is a free application that lets you take websites and essentially makes apps out of them. They become apps because they open in their own windows, even though it is basically like opening the site in its own browser. The benefit is that you can leave these apps running without your browser running. You also don't have to worry about quitting your browser accidentally and leaving the site you were on.
How To Use Fluid
To use Fluid you only need the url (website) of the site you want to convert into an app. You open Fluid and type the website in the field indicated. In that same window you indicate where you want the application saved, what you want to call it, and what icon you want the application to have. One of the options is using the favicon from the site itself. This is the icon that appears in the browser's address bar when you open a website. These icons are generally very poor quality, but better than nothing. You can also choose to use an image file off of your computer that would be higher quality. Another source for icons is to download icons from the Internet from various free icon websites.
If you do find an icon that you have downloaded you have to convert it into an image file. To do this choose the file's icon and press command+"I" on your keyboard. This will open the icon's information window. Click the icon in the window to select it. Choose "Copy" from the edit menu to put the image in the clipboard.
Now you need an image editing program like Photoshop or Photoshop Elements. There are other options also, these are just two. You will want to paste that icon image from the clipboard into a new file. Save the new file to a place you can easily find it (ie. the Desktop). Now when you are creating your app in Fluid you can select that file instead of using the websites favicon. You'll have a much nicer looking icon on your app on your desktop, dock, or wherever you choose to put it.
Once you have all of your information set up click create. You'll see a spinning pointer while the app is processed and be notified when it's finished. When finished the new application will be found in the folder you indicated. You can now move the new application, put it in your dock, etc.
Fluid is just that easy to use. To open the application click the icon like you would with any other application. The website will now open just like any other application. It will look just as the website would through a browser.
I have found two problems with Fluid apps. The first problem is that some features will not work out of the browser due to missing plug-ins and features that a website might need (Flash is an example of this). However, for the most part they work great and are a great shortcut for getting to websites.
The second problem I have had is that some of the "apps" I have created have stopped working after a few days. I don't know why, but they do.
You can download Fluid for free from the Fluid website. You can also pay $4.99 for a few extra features that you may want. These features include having the Fluid apps store their own cookies, pinning Fluid apps to the status bar, as well as userscripts and userstyles. I would expect cookies might enable some of the missing features I mentioned above that cause issues with some apps. None of these features are important to me, so I can't comment on if it is worth the upgrade price. However, if you really like Fluid you could upgrade just to help the developer out.
References
Article based on author's experience
Screenshot by author