We Explain: AVG Internet Security for Mac OS X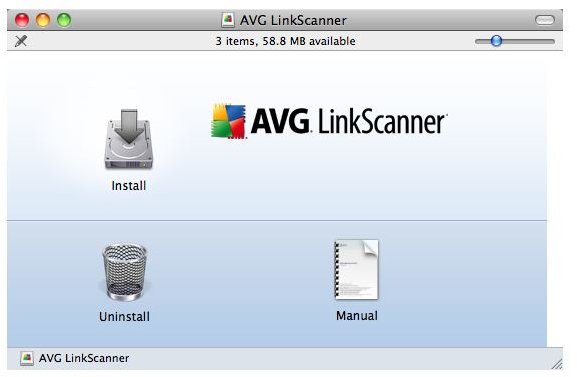 First Malware Appearance on Mac
For a long time Mac owners have prized the OS X system for its high level of security from viruses and malware. Granted, the 'privilege' of unwanted visitors on your computer has forever been to Windows owners. The reason for the abundance of malware is based on the theory that the Mac system was not nearly as popular as Windows, making it less attractive for deviant developers. The status of a virus and malware-free system has very recently been seriously harmed as an application called 'Mac Defender' has found its way to the system.
Mac Defender has been designed to gain unwanted access to your computer. The status of malware has been gained by the app actually pretending to be a Mac protection application. As such it still required an administrators password. Since the app emerged, imitators have found their way to OS X as well with other malware apps such as 'MacGuard'. For those shocked by this development, it is finally time to start protecting your Mac, and AVG LinkScanner for Mac might just be the app for you.
What is AVG LinkScanner and Why Do You Want It?

AVG Internet security for Mac OS, or LinkScanner, is not a complete virus protection suite. Nevertheless, as explained above, there is certainly a function of having AVG software for Mac installed. However, if it is not a full anti-virus application what is it?
LinkScanner for Mac is nothing more then what it the name implies: it scans Internet links. Essentially the application scans your Internet searches and promises to do this live so that you know if a website contains malicious content even before you opened it. It has four degrees of rating the site:
A green star means that the site contains no threats and you should be good to enter.
A yellow sign means the site might contain a threat but it seems unlikely.
An orange sign means there is a high probability of a threat being present and you should act caution before proceeding.
A red sign means a threat is (almost) certainly present and you should avoid this website.
Besides links in search results, the AVG Internet shield scans websites in real-time even when accessed through entering a link. If the site is unsafe it will prevent you from entering.
These precautions might seem a bit extreme just for malware that has already been identified and named many times in the media. You might assume that you will recognize harmful software, as your common sense will not let you down. Nevertheless, developers of harmful software understand this thinking process and design their apps to respond to the impulsiveness of many Internet users. Especially on Mac's where many users consider their system a safe haven from viruses and other harmful web elements, new malware can easily create damage in a relative small amount of time.
Installing the Software and Tweaking the Options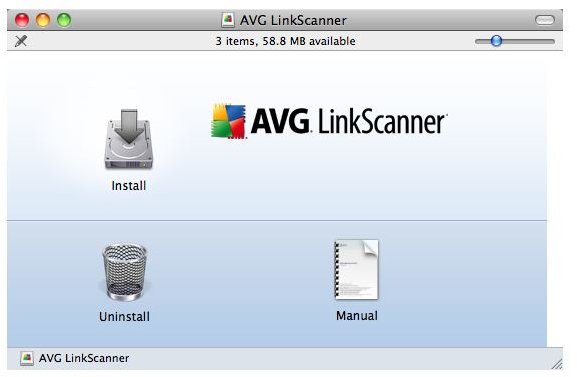 We have covered AVG LinkScanner in more detail before in our review for Windows and found it particularly useful, especially given the fact it is free. In terms of performance, features and overall function the Mac version compares well to its Windows counterpart.
More interesting for the Mac version therefore is to look at the installation process and the settings options. Installation is, like with most Mac software, a breeze and involves the following steps:
Download the .dmg file from the link provided in the reference section of this article.
Mount the .dmg and double click on 'Install'. The application will take almost 60 MB of space on your hard drive.
Go through the steps and finish the installation. Your computer will need to reboot in order to finalize the entire installation process.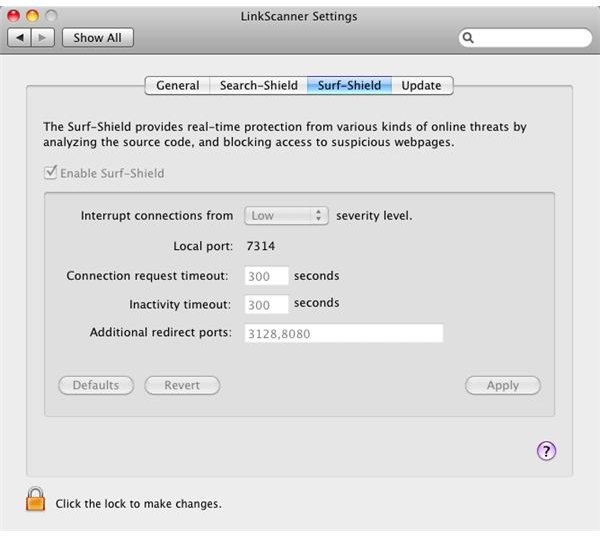 Once installed and rebooted the AVG icon will appear in the top bar of your desktop. Most likely it will require you to instantly update the database. To do so, go to your system preferences, where AVG has added its settings hub at the bottom of the screen. Open the LinkScanner preferences and browse to the tab all the way on the right to update the database to enjoy full Internet link protection. Within the settings page you are also able to set thresholds for the surf-shield and select which browsers to support. Unfortunately support only includes Firefox and Safari and not Chrome or Opera.
AVG LinkScanner for Mac might just be the first line of defence you will need to safeguard your online browsing. Although it will go against the very nature of many OS X users, as of recently malware has become a very real problem, one that you will have to protect yourself against in order to keep enjoying carefree internet browsing. If LinkScanner can extend their support to all browsers available on the Mac, there is no reason not to opt for this Internet protection for Mac software.
References