Replacing a Macbook Air Battery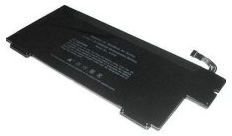 Laptop Battery Shopping 101
One of the hardest things to shop for when it comes to laptops are batteries, and this is for a number of reasons. They aren't very "standard", so if you buy the wrong one you're pretty much out of luck, they're often very complicated to install, and every single laptop has a different type of battery that works for it. You can't use a Windows battery with a Mac laptop, you can't use a Macbook Pro one with a Macbook Air, and often times you can't even cross batteries from different size laptops of the same brand. This makes things remarkably confusing for the novice buyer, but things don't have to be all that complex. Here are some laptop batteries that will work for your Macbook Air, and a guide on how to install them.
For the Macbook Air: MB003LL/A Series and Apple 661-4587
The Macbook Air, being the remarkably light and thin computer that it is, has things very tightly packed within its interior, including the battery. Removing and replacing the battery on such a device is very difficult and subsequently not many people have taken the time to develop batteries to be mass marketed. The first of the few batteries that will work with the Macbook Air is the MB003LL/A line of power generators, but even they aren't perfect. Running at about $90 average, they do work with many models of the Macbook Air, but unlike the pro, you need to find your exact model number and match it with other compatible models on the purchase page.
Replacing a Macbook Air battery is tough, and with varying models, it becomes even tougher. If you're using the 661-4587 model however, one of the more common models, the Apple 661-4587 (great name, I know) will work like a charm for you. It's one of the replacement batteries that's a very close replica to the one that initially comes with the Air, and at about $100, it's a heck of a lot cheaper than buying a brand new laptop.
Next, How to Replace Your Old Battery
Opening up and replacing your old Macbook Air battery is a bit of a chore, but it's hardly impossible if you have a little patience.
Follow these instructions and set aside about five minutes of your time, and you'll be juiced up and ready to go in no time.
1. Power off your laptop and flip it over so as to see the four rubber grips and screws holding the body together.
2. Remove the exterior screws and set them somewhere that you will not lose them. It's very important you're able to re-screw the back onto your laptop.
3. Very gently remove the bottom plate from the laptop and view the inside. You should see nine more interior screws surrounding where your battery currently is. It is the large black rectangle taking up about half the space of the laptop.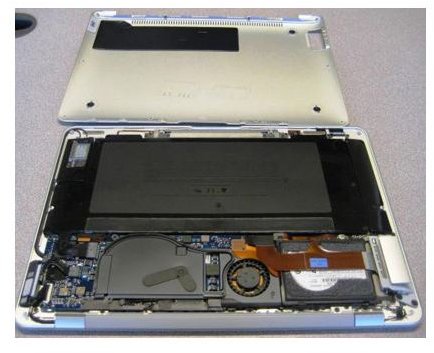 If you have trouble recognizing what part the battery is, it may be best to let someone else handle this job.
4. Remove the nine interior screws surrounding the battery.
5. Carefully remove the old battery from its resting place inside the computer and disconnect it. If you want to keep it, set it aside.
6. Using your new battery, plug the small connecting cable into the socket where the old battery once rested, and snap the new battery into the place of the old one.
7. Re-screw the nine interior screws.
8. Place the plating back onto the Macbook Air and re-screw the 10 exterior screws.
9. Turn on your laptop and check to make sure everything went smoothly.
10. That's it!
References and Purchase Links:
Image References: All images are from products' respective purchase links, or from this link.
Information Reference: Information comes from a combination of author knowledge and the info found on the products' purchase links, or from this link.
Purchase Links