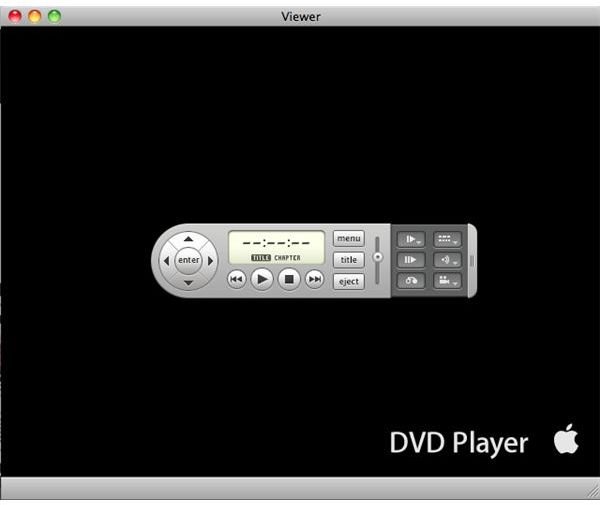 DVDs vs. DVD Files
Before you venture into the realm of playing DVDs on your computer, first you need to make a distinction between whether you want to play a DVD file, or an actual DVD. The difference here is fairly simple: One of them is a physical object (ie, something you buy at a store with a case/disc), and the other one is something you download or make yourself (ie a computer file). Once you've found out which one you're trying to play, you can decide which of the Mac DVD player apps will work for you.
For Physical DVDs: DVD Player
Among the cleverest of the clever names lays an app made by Apple, pre-installed on your Mac called "DVD Player". Okay, so the name really isn't at all clever, but the app itself does everything you'd want from a DVD player app, and absolutely nothing else. If you pop a DVD into your Mac laptop or desktop computer, this application will generally open automatically and begin playing your movie, starting from the beginning and then heading directly to the main menu, where you can select all the various options your disc presents.
Pros:
- Totally free
- No need to download anything
- Opens automatically
- Saves your spot if you quit DVD Player
Cons:
- Doesn't do anything except play physical DVDs
- Can't open other file types
- Can't open virtual DVDs
For Virtual DVDs: VLC Player
So, let's say you've downloaded a DVD file type, such as .AVI or .IFO, and you want to be able to play it without burning it to a disk, as this can be a long and annoying process. The first thing you'll need to do is download the VLC Media Player for Mac (download link below) and unzip/unarchive it. After you finish that whole process and copy the application to your Applications folder, all you need to do is open it and load the particular DVD file into it. This should start the process fairly smoothly, and if you have any hitches it's recommended that you delete and re-download the file.

Pros:
- Totally free
- Opens DVD files
- Opens physical DVD discs
- Allows for deinterlacing and other audio/video options
Cons:
- Does not save your place if you quit
- Has to be downloaded
- Does not auto-open when you put a DVD in
Other Downloadable Apps
Because all computers nowadays come with built in applications to play DVDs, very few third party companies have seen a market for creating their own players. Even VLC player wasn't created for the purpose of playing DVDs and DVD files- it was an application designed to allow people to open less common filetypes like .AVI and .WMV on Mac. Needless to say, no one else has really put out an application that allows you to play DVDs specifically. There are some other options, however, such as the Perian codec pack, which is an add-on to various movie viewing/editing programs within your Mac such as Quicktime and iMovie. Installing it allows these programs to view many file types that weren't previously accessible (including the DVD-friendly .AVI), but coupled with Quicktime's ability to view regular DVDs makes it just as versatile as VLC or DVD Player.
References:
- Images are all screenshots taken by the author.
- Information all came from author use of the aforementioned applications.