Slow Mac? Buy Memory for Your Mac Mini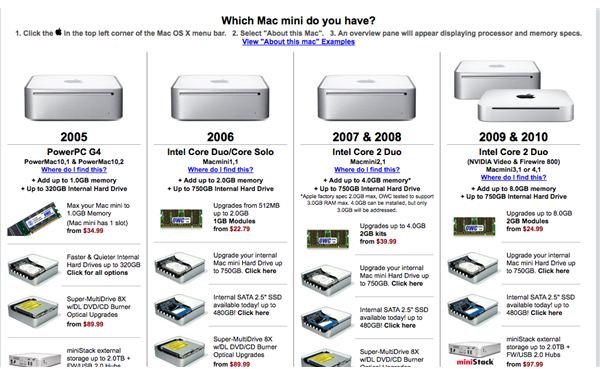 Apple's Obsession with the Compact
Between their increasingly smaller and smaller phones, the Macbook Air, and the Mac mini, Apple is doing everything it can to keep things small, streamlined, and smooth. This all comes at a price, however, because the smaller things are, the harder they are to customize and upgrade because parts are compacted in such unique and intricate ways. The Mac mini is a victim of this problem, and as such, it becomes harder and harder to find a place to buy memory for a Mac mini and install it yourself. To help you out, here are some useful online and in-person shopping locations for doing just this.
eShop's Mac Store
The first place I'd recommend you look- if you want to shop online, that is- would be a place called "eShop", which has an entire section dedicated to finding you the hardware you need to keep you Mac mini upgraded and up to date. Their store boasts tons of Apple upgrades, but the real bonus is that they divide it by which computer you have, so you'll never wind up buying a part for something that isn't compatible with your device. When you get to the main page, simply select which year your computer came from, select what type of upgrade you want (memory, hard drive, etc), and it'll direct you through the entire purchase process, including giving you the different size options for memory, from just 2GB all the way up to 8GB.
Online Apple Store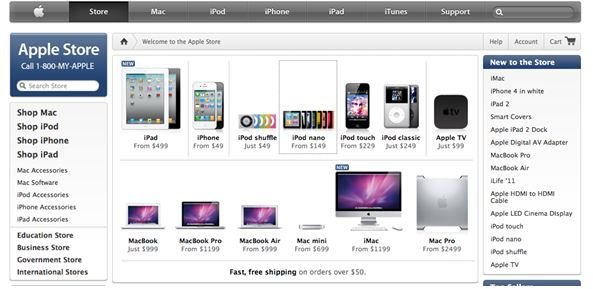 If you're looking for Apple products, you can't go wrong by going right to the source– the online source, anyway. Apple's online store is slightly more expensive than a third party outlet, but it takes every precaution necessary to ensure that you buy the right product, including guiding you through, step by step (like eShop), product by product, until you reach the item you're looking for. The upside to this is that they have a guarantee that their products will work with your computer. The downside? You'll end up paying anywhere from twice to four times as much as you would at a competitor. If you've got the money, the Apple Store is your best bet. If not, you'll have to shop elsewhere.
The Physical Apple Store
This choice, like its online counterpart, is once again more expensive than third party outlets, but you have the added bonus of being able to speak with someone in person about your product, what you want from it, and how much you have to spend. These stores are located across the United States (you can find one near you here), and they even offer 1-on-1 sessions with Mac specialists in case you need an extra bit of learning or help getting to know your Mac, installing new hardware, or any other questions you may have. They're open 7 days a week, until 9 on weekdays, 5-6 on Sundays/Holidays, and can be used for buying games, apps, new hardware, and everything you'll ever need for your Mac.
References:
- All images are screenshots taken by the author, or are from the respective websites of each store and/or online marketplace.
- Information is all gathered from author use of the above stores, or from the respective websites of each store and/or online marketplace.