We Explain: Can I Use My OS X Discs On Another Mac?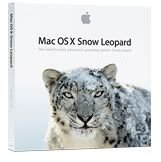 Various Mac OS X Install Discs
There is a whole lot of confusion about the various types of OS X install discs going around and for what computer they are intended. If you are one of those people that wonder if you can use your OS X discs on another mac, this guide is for you. Here we explain exactly what the difference is between the various install discs on the market.
The Difference Between Store-Bought and Device Specific Mac Install Discs
There are a variety of mac install discs available on the market, which goes beyond the obvious normal vs. server type of operating system. For the normal OS X 10.5 or 10.6 versions, the main distinction lays in whether it is bought in store or packaged with the Mac computer.
The version you would buy in the store or through Apple's online web store is a universal production that will work on any (Intel-based) Mac computer. The main difference here is between the license type, which for consumers can be either for one computer or for five, which is the case with the family pack. These versions will work on any type of Mac computer, regardless of whether it is a iMac, MacBook, Mac Pro or Mac Mini.
When you purchase a Mac computer, you will find that it comes with a Mac OS X Install disc as well. Although you might assume that it is the same as the one you would purchase in the store, it is not. The bundled install disc differs greatly from the retail OS X version, in that it is entirely device specific. In other words, you will only be able to install OS X on the Mac machine it came with. Although it might look as a silly obstruction at first, this is Apple's way of ensuring you use your one-install license the way it is intended.
Can I Somehow Circumvent This Restriction?
The short answer to this question is yes there are ways to get around the restriction. Essentially there is no difference between the install disc purchased in store and the one bundled with your new Mac computer. However, a different encryption prevents you from using the latter with any other Mac machine.
It goes without saying that trying to get around the restriction borders breaking the law and therefore I will not suggest any concrete info here. Essentially you need to find a tool to extract individual files from your install disc and alter the 'OSinstall.mpkg' file to make it work. Guides to do this exist around the Internet and should not be too hard to find.
In short, if you want to be able to use your Mac OS X install discs between different computers, you will need to get your hands on the retail version. The bundled version that came with your new Mac does not work on other devices. Hopefully we can put this issue to rest now!
References