iMac Screen Glare Tips & Tricks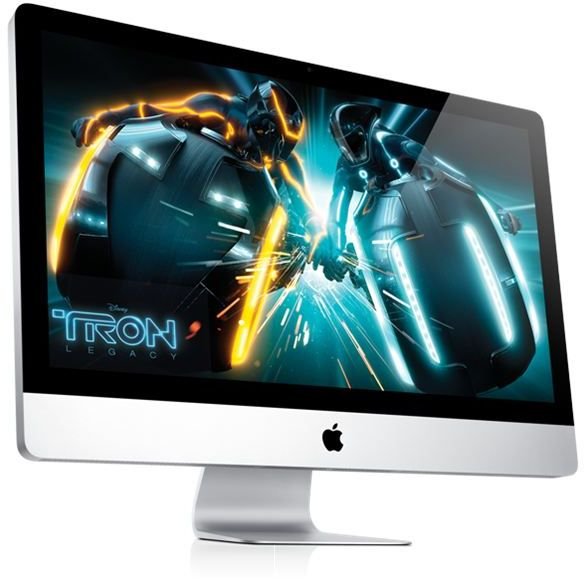 It feels like just yesterday that I was taking shipment of my new iMac 27" desktop computer, switching it on and nearly being blinded by the screen. The screen was bright, clear, crisp and brilliant! Perhaps a little too brilliant. My first step was to reduce the brightness of the screen by dragging the slider the whole way to the left, which seemed to help, but I was still concerned about the "glare" on my iMac 27" screen.
(Image: https://images.apple.com/imac/images/overview_display20110426.png)
Option #1: Anti-Glare Film
Perhaps the easiest way of reducing the glare on your iMac screen. This tends to result in a slight distortion of colors so this method is not recommended for digital professionals who need 100% accurate color representation in their pixels.
An anti-glare film is a protective film you apply to your screen that helps turn a glossy display into a more matte finish. This can significantly reduce screen glare but at the cost of reducing the brilliance of your display. As I mentioned above you will see some slight distortion of colors and your screen can even take on a minor "grainy" look. That being said, anyone but a professional who relies on the colors and crispness of their screen is unlikely to notice the difference. The iMac 27" screen will still easily outperform screens from other manufacturers.
There are two options for anti-glare film that I would recommend. The first is from Radtech and they call it the "ClearCal Anti-Glare Film for Glossy Displays". This is an excellent choice if you opt for an anti-glare film for your iMac. You really can't get any better and at $39.95 for the 27" version the price is reasonable. Another great source of anti-glare film for your iMac 27" is Photodon, they offer a similar anti-glare film kit for $62.53, you really can't go wrong with either.
Option #2: Remove the Front Bezel
I personally would not recommend this method, especially on an iMac that is still under an AppleCare warranty however, some users have reported great success doing this. The basic idea here is that the glare is caused by the protective glass cover (the bezel) on the front of the iMac and removing it will reduce the glare. This does seem to be the case, I've tested this out myself while I had the bezel off during cleaning however, I have not left my front bezel off for any prolonged period of time for any sort of extended testing. As I said above some users have reported success with this method, do this at your own risk… your mileage may vary.
Option #3: Modify Your Environment
The safest way to try to reduce iMac screen glare is to not make any modifications (aside from the software modifications mentioned in the first paragraph) but instead modify the environment around your iMac. Many times excessive screen glare is caused by the types and/or placement of your light sources. A few tips for making adjustments to the light sources around your iMac are; 1) adjust the amount and type of artificial light around your iMac until you are happy with the reduction in screen glare, 2) be sure there are no light sources (natural or artificial) directly behind you or this will cause glare, and 3) in a room with lots of sunlight use privacy panels to reduce the amount of natural light that gets in.
These tips in combination with an anti-glare film may end up being your best option but I recommend trying the above tips first to see if they make a big enough impact before investing in an anti-glare film for your iMac.
References
Author's own experience
https://www.photodon.com/mm5/merchant.mvc?Screen=PROD&Store_Code=P&Category_Code=AppleiMac&Product_Code=MXH-3420-01K