Top 3 Mac Os X Instant Messengers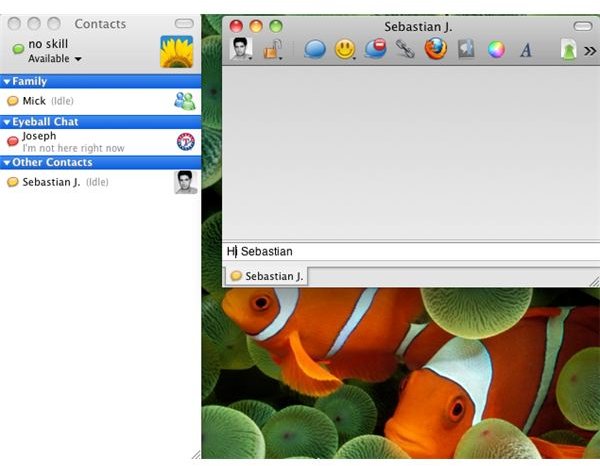 Chat With the Best!
When most Mac users want to chat with friends online, they sign into iChat, the free instant messaging service that is shipped as part of the operating system. This chat client is easy to use, quite rudimentary in some ways, but saves you the trouble of downloading other solutions.
In actual fact you're not restricted to iChat – in fact there are several instant messaging apps for Mac OS X that you can use to chat and share files with friends around the world!
Yahoo! Messenger, Skype, Google Chat, AIM and ICQ are all available for Mac OS X, as is Windows Live Messenger.
However times are changing. Rather than select any one of the above, the best path to universal text chat on the web is to find a solution that unifies as many of these popular systems as possible.
Adium
Probably the best all-round chat client on any platform, Adium provides support for the popular Windows Live Messenger, Yahoo! Messenger, Google Talk, AIM, ICQ and Jabber chat networks, as well as offering Facebook and Twitter functionality.
It does this pretty effortlessly via an easy to use chat console, one which allows considerable customization of icons, sounds and scripts to deliver a well-rounded solution to the age-old problem of signing into multiple chat clients.
One draw-back with Adium is that it doesn't provide voice or video chat. This is hardly surprising; as you will see below, none of the chat networks have put much effort into standardizing these types of communication. You can find your copy at https://adium.im - this is a 22 MB download.
Skype for Mac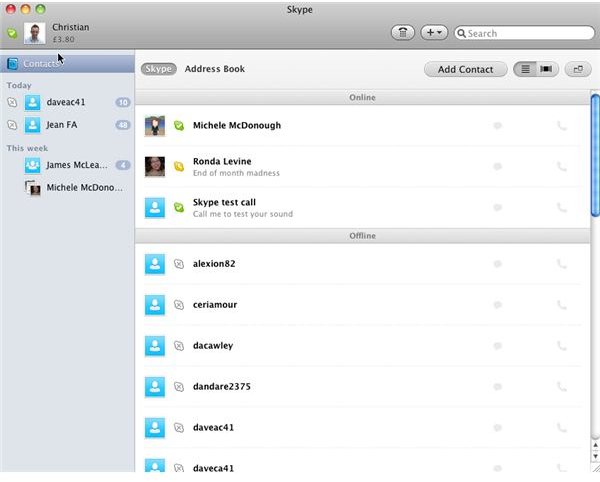 If what you really want is voice and video chat then your first and only port of call should be Skype. Offering free voice and video calls to other Skype users and probably the lowest voice call tariff in the world for calling landlines and mobiles, Skype is tailored for voice and video chat in the way no other software is.
In addition Skype gives you text chat, the ability to have conference/group text and voice chats and allows you to share reasonably-sized files.
No wonder it is so popular! Head to www.skype.com to download the 20 MB file to install your version!
Proteus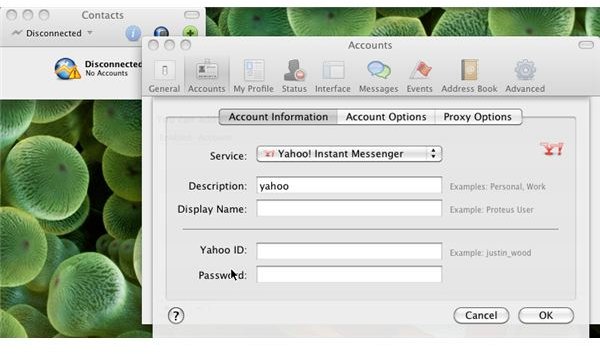 Like Adium, Proteus supports multiple chat networks such as Yahoo, MSN/Windows Live, ICQ, AIM and Jabber (note that Google Chat is not supported).
An open source project, Proteus features a typical narrow chat client user interface listing all of your contacts and also facilitates customization of certain features. Most interestingly is the ability to share data files (photos, documents, short media clips) across the various connected chat networks. Again note, however, that video chat is not supported.
The 17.2 MB Proteus installer file can be downloaded from the product homepage at www.proteusx.org.
Archaic Alternatives
Yahoo! Messenger and Windows Live Messenger: Mac might have the weight of big organizations and years of development behind them, but other than the "feature" of being able to chat with users from both networks on each chat client, they're becoming more and more archaic.
Meanwhile the on-board iChat client lets Mac users chat with other Mac users – and that's it!
While none of the above Mac OS X instant messengers offer cross network video chat, they don't need to when Skype is mopping up all available users. Yahoo and Microsoft have had years to develop compatible webcam networks and the fact that they still haven't achieved this is leading to more and more people abandoning them. Users want to be able to chat with anyone online, not people wearing the badge of a particular software company!
References
Author's own experience.
Screenshots by author.