Keeping Track of Your Contacts On Mac OS X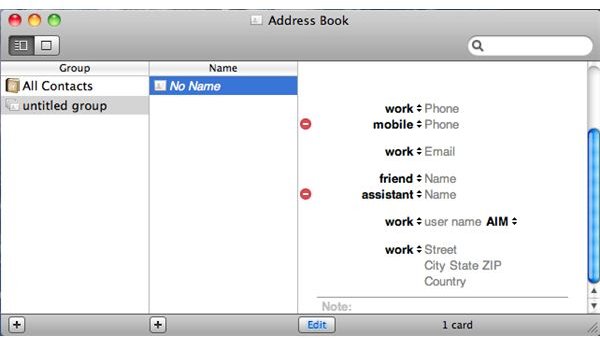 Mac OS X and You (And Your Friends, and Their Personal Information)
Compiling location and contact data for your friends and family can be a real undertaking, especially if you haven't been staying on top of it from the very beginning. With most people having hundreds if not thousands of Facebook friends (many of whom, I do realize, are not people you're regularly in contact with), it has become especially necessary to organize all of their addresses and phone numbers in one easy to store place. Thankfully, as technology evolves so does our ability to do old tasks with new ease, and that's exactly what we plan on doing with free address/contact management for Mac OS X.
First Things First: Address Book
You'd be surprised at how many people don't realize that Mac OS X has a built in contact management application that does essentially everything your traditional address book would do, with the ease and comfort of a personal computer. To locate 'Address Book', simply point your cursor to the dock, and towards the left hand side (by default, anyway) you'll see a small, brown, address-book-looking icon with an "@" symbol on it. Click this, and you've opened address book.
If you don't see it on your dock, you can always use the tried and true "Spotlight" method. Click the magnifying glass in the upper right corner of your screen and type in "Address Book". The application should show up in the drop down menu.
Using Address Book
Address Book, like most proprietary Mac applications, is built to be really easy to use, which is magnificent. When you open it up, you see three columns: One is for sections, one is for address book entries, and one is for the actual information. Simply click the "+" button in any of these sections, located at the bottom of each, to add a new entry into that section. Everything else you need to do is guided by the application itself, so you don't need to learn any fancy computer skills.
Among adding people's names and addresses, you can also edit business names (if you're adding someone from a business card), and put in things like AIM usernames and friends/assistant titles. If you're looking for an address book, Apple's "Address Book" is really all you should ever need.
Other Address Book Applications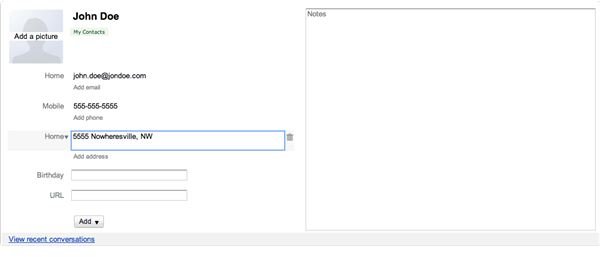 In addition to 'Address Book', there are a couple of other applications you can use to keep track of all of your contacts and things, one of which is Google's Gmail. While most people think of Gmail as strictly an e-mail program, it turns out to be true that you can also input names, numbers, and addresses of the contacts in it. This makes it not only a versatile application for keeping in contact with your friends, but also an application for keeping track of your contacts.
Aside from 'Address Book' and Gmail, there's really a remarkable lack of free address and contact management apps on Mac. This is perhaps because no one can really do a better job than Apple themselves did, but whatever the reason, it won't be an issue for you: You've got everything you need right here.
References:
1. Image Reference: All images are screenshots taken by the author.
2. Information Reference: All information is prior knowledge of the author.