Video Capture Cards for Mac Computers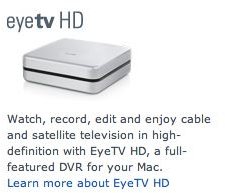 Recording Video From Your TV to Your Mac
Around the time Youtube was started, a new community of people was forming online. These people were dedicated to recording video from their TVs onto their computers for editing and uploading to various places for others to watch, and as the result of that community came the creation of video capture cards, which allow you to record video from analog sources straight into your computer. The unfortunate fact about these capture cards is that, while they are very useful, there are not too many of them made for Mac. As such, I've found the only two that seem to be of legitimate use and I'm giving them to you in the hopes that they will help.
Elegato EyeTV
The EyeTV is a remarkable device in more ways than one, but it is slightly limited in its function. Initially, the appeal is very great: It's sleek, easy to use, and looks great next to any Macintosh computer. The downside, however, is that if you're looking for the most versatile Mac video capture card, you may have to go elsewhere. EyeTV is a great piece of equipment that allows you to watch, record, and stream satellite and cable television directly on your computer without hassle and without too many cords. This is a huge upside if you're looking to record only television shows and movies that are played via your cable/satellite TV provider, but unfortunately that's where EyeTV's functionality essentially ends.
The issue is that, while you can do all of the aforementioned things, you can't record from a DVD player, VHS player, game console, or any other device that isn't your television network provider. This is a pro and a con, of course, because it's extremely easy to record TV shows, but it is indeed at the loss of the ability to record from other devices.
If you just want to record television shows, though, there's no better alternative.
Pinnacle™ Video Capture for Mac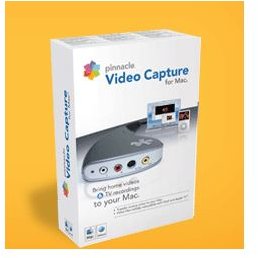 So, let's say you're a gamer who wants to record your latest play session of 'Call of Duty' or a mom who wants to record all those old VHS tapes for storage on your computer. What can you do? Is all hope lost? Of course not! There's always another option when it comes to computers. This second option comes in the form of a device called the 'Pinnacle Video Capture' card, and it's a very nifty piece of work.
First off, the bad news: You cannot record wirelessly with this device. While this is a dealbreaker for many people, read onward, because it's not as complicated as you may like to believe.
The way Pinnacle works is simple. So simple, in fact, that if you can plug in your game console or DVD player to the back of your TV, you can use it– literally, that's how it works. All you need to do is take your Y/R/W (yellow, red, and white cables from your device), plug it into 'Pinnacle", and hit record on the software that it comes with. After its done, Pinnacle automatically reformats your video for use in iTunes, so really it's the best Mac video capture card available. Which is a bit misleading considering they're not really "cards" at all.
Ah well! If it sounds like Pinnacle might be the one you're looking for, hit the link below.
References
1. Image Reference: All images are screenshots taken by the author of the products from their respective websites. Links found above.
2. Information Reference: Information came from respective product websites (links above), and Mac forums.