Creating Great Resumes Using Apple Pages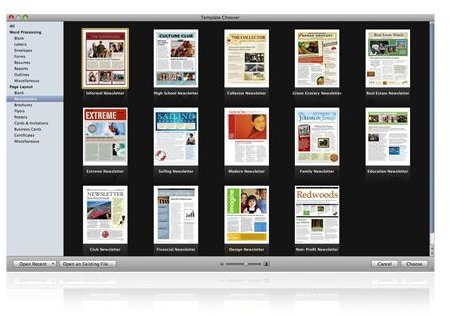 Introduction
Whether this is the first, second or third time you need to create your resume, it's always a hard task to complete. With this brief guide, we are going to see how the use of Pages can help in creating great resumes.
Getting Started
Once you open up Pages, to create a new document, the program will present you with a page where you can choose a template from a wide range of built-in templates. Today we are going to focus on the templates dedicated to create great resumes.
Once you have chosen the one that you feel best fits your needs, just click on it and Pages will render the template. The template will be filled with standard contents that you will replace, of course, with your personal information. As you will see, in Pages there are many different templates you can choose from, but I would suggest you to chose one that is simple enough that it will show your details, without creating confusion for who reads it.
I know that you may want something to stand out from the crowd, but in this case, the more simplistic the more effective it will be.
Filling In Your Data
This is the most important part when it comes to creating great resumes. It is not directly related with the structure of the document, but it's a very important task to complete. There are many ways in which you can fill you resume. I won't go much into the detail of filling it, but I'll focus more on the structure.
Be sure to include a recent photograph of you in the top right corner of the first page. To do so, just drag the picture from wherever it is on your hard drive, directly into the page. Right click on it to set the position on the document. I suggest you to set to Overlay text, so you will be able to move it around and place it where you fell it will fit best. As much as a resume should be schematic and short, there could be some parts where you need to place several pieces of information.
If you write an entire paragraph, you should align the text using the justify button. You will find this button inside the Inspector menu, under the voice text and paragraph. Now let's talk about tables. You may want to use a table in your document. This is very useful in the language section for example.
A table is a good way to show info about all the languages you know. Inserting a table in Pages is really straight forward. Hit the Insert tab on top and select Table. You will be able to customise the number of rows and column and you will also be able to move the table around, placing it wherever you want.
Final Recommendations and Conclusions
This was just a brief overview of the potential of Pages in creating great resumes. I just want to close the article with two final recommendation. When you finish the first draft of your resume, let a friend or a colleague check for possible mistakes.
Another pair of eyes can be very useful many times. Second, if you are unsure on the kind of information you need to enter in your resume, you could check the Europass website (just Google it), to obtain more tips & tricks on how to create resumes that will stand out from the crowd.
In case you need any other help, you can visit some of the excellent Apple Pages help forums on the internet or leave a comment below.
References