Converting Mac Word to PDF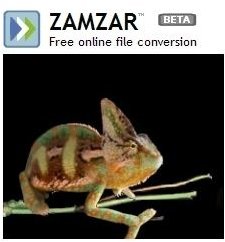 What is a Word File? What is a PDF File?
The conversion of filetypes is getting progressively easier as time goes on. You use to have to invest in very expensive software, wait quite a while, and then download the files again in order to convert something as simple as a a text document to another format. Nowadays, thankfully, conversion is a quick and easy process, even when converting from once-incompatible filetypes like .doc and .pdf.
What .doc and .pdf are are two text file-types, but the PDF is only readable, while a DOC can be read and edited. The PDF was initially created by creative company Adobe for their Acrobat Reader program, and the DOC file was an old Microsoft Word filetype that still is in use, albeit in other extensions like .docx.
Using Zamzar to Convert Your Files
The old standby I always tell people when they want to convert files to any other file type is a website called Zamzar. Zamzar can be
your one-stop-shop for file conversion because it can concert any file type (text, music, video; you name it) into any other similar file type. This, of course, means you can't convert a text file into an audio file, but it's not like it would make much sense to do so anyway. Zamzar is easy to use, as well. Just upload the .doc file you want to convert, and then select the file type you want to convert to, and click submit.
After a few minutes (2-3 minutes for smaller files, up to 30 minutes for larger files), Zamzar will e-mail you your converted file, and all you have to do is download it. It's quick, easy, and completely painless.
Doc2Pdf.net
Despite a name that seems a little bit cheesy, Doc2Pdf.net is the real deal, and while it only does DOC to PDF, as its name suggest, it actually does it faster than Zamzar. Simply choose the file you want to upload, enter the necessary information, and you'll have a PDF file in no time. Recently they added the ability to convert files into ODT format, but this filetype is very unused, so it's not as helpful as the PDF conversion function.
Converting With Pages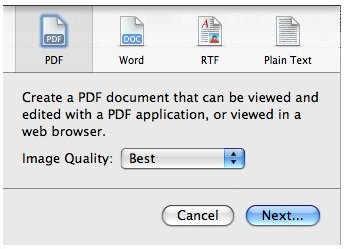 While I normally find it tasteless to save the best for last, it's fitting in this case because Pages really truly is the fastest and most versatile text converter you'll find. While its proprietary file type (.pages) is pretty limited because, well, it can only be opened with Pages, the actual program can open a slew of files, including those with .doc (Microsoft Word) extension. Converting Mac Word to PDF is as simple as it gets here.
All you need to do is open your Word document, then go to the "File" menu and click "Export". Click the "PDF" option, and that's it. Seriously, it is actually that simple. If you were looking for an article on converting Mac Word to PDF including links, I'm sorry to say that Pages doesn't have a link, because it's not free to download. If, however, you're looking to pay for this application and you don't already have it, simply go to the app store and look it up.
References
1. Information Reference: All information comes from their respective host websites (links above) or from prior author knowledge.
2. Image Reference: All images are screenshots taken by the author.