Mac OS X ISO: Using and Burning ISO Files on Mac OS X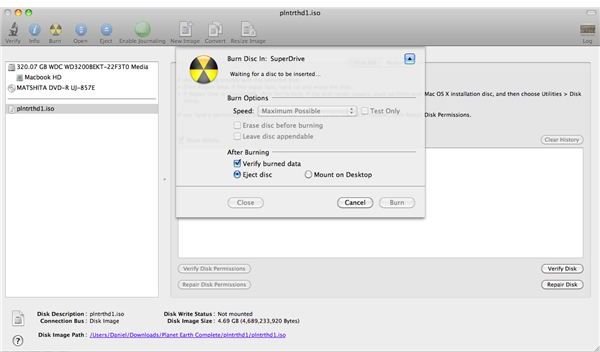 Burning and Using a Mac OS X ISO
The Mac OS X operating system that is by default installed on Apple's MacBook, iMac, Mac mini and Mac Pro differs quite a bit from Windows, which should be very obvious by now. One feature, however, is not often heard when Windows and OS X are compared, that is the ability to mount Disc Images, such as ISO files, already built into the OS X operating system. Where Windows needs external software to create a 'virtual drive', OS X users will only have to double click the ISO to mount it. Even burning this ISO is an easy and painless process, which is illustrated in the following steps.
Burning a Mac OS X ISO Using Disk Utility
The Disk Utility tool, which is built-in into the OS X operating system, is the HQ of everything that has to do with discs. Whether it is your hard drive, external HDD or superdrive, everything is managed through the Disk Utility. The following steps explain how to burn a Mac OS X ISO file using Disk Utility:
Open the Disk Utility tool, which is located in the 'Utilities' folder in the Applications screen.
To prepare the ISO, it has to be mounted within the Disk Utility tool. This is done through File, then Open Disk Image… in the top bar of the utility. The keyboard combination ALT+CMD+O will have the same effect.
Browse to the location of the ISO and double click on it. It will now appear in the left panel of the Disk Utility window.
Select the ISO that has to be burned on disc. Select the 'Burn' button in top bar of buttons. A Burn dialog box will show up.
Set up your superdrive and select 'Burn' to start the burning process. This will burn the Mac OS X ISO with the help of Disk Utility.
Third Party Burning Software for Mac OS X
Although the disk utility method is reasonably comprehensive for burning ISO files in Mac OS X, there are of course third party alternatives. The big advantage of these third party alternatives is that they can do a lot more then just burning ISO files. A few good examples are:
Whereas Disk Utility is a Swiss army knife of different features that do not necessarily all have to do with disk burning, these applications are specialized in just that. If you are in a position where you have to burn a lot of ISO's and want the security of successful completion of the process each time, these alternatives may be more suitable for you.
Whatever your task is, it is clear that Mac OS X is a powerhouse when it comes to dealing with ISO files. Whether it is the mounting of them or burning, there are very few things it cannot do. However, if it does come in the situation where limitations apply, surely there is a third party application available to pick up where Disk Utility left off.
Note. If you have other favorite burning applications on OS X feel free to post them in the comment section with reasons why this particular software is worth it. We will have a look at it and make adjustments in the article if necessary.
References