Configuring Free Microsoft Office Updates for Mac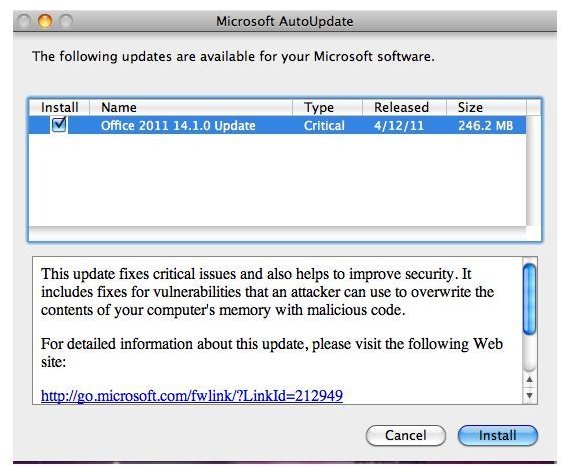 How to Update Microsoft Office for Mac Using Microsoft AutoUpdate
When you first install Microsoft Office for Mac, you are prompted during the setup process to enable automatic updates. If you selected this setting, it's likely that your copy of Microsoft Office is already up to date, However, the process is quite simple if you did not enable this option and want to configure updates now.
To launch the Microsoft Update utility, select the "Help" menu in any Microsoft Office program and click "Check for Updates" to open the utility. As soon as you launch Microsoft Update, the program will search for any available updates and will display a screen as seen below:
An advantage of Microsoft Update is that you can view information for each update within the information box or through the website mentioned in the update description. You can also select which updates you want to install by clearing the box beside each update you don't want to install. After clicking the "Install" button, Microsoft Update downloads and installs all the selected updates for you, so there's nothing else you're required to do.
If you view the list of updates and decide that you don't want to download any at all, you can simply clear the box beside each update and click "Cancel." This brings you to a configuration screen where you can select the frequency of automatic updates or disable the feature entirely. If you disable the feature, you can always come back through an Office program's "Help" menu to view available updates.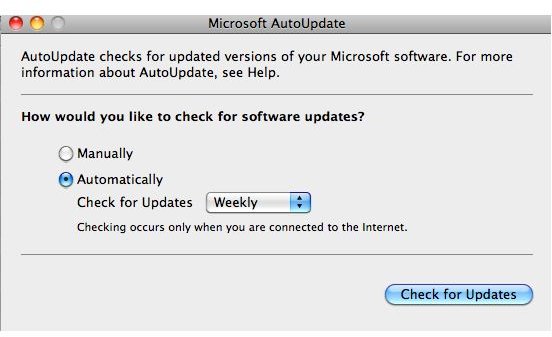 How to Download the Latest Service Packs and Updates From Microsoft Download Center
If the Mac where you installed Microsoft Office does not have an active Internet connection, you can take advantage of Microsoft's download website to download updates from another computer. An easy way to do this is to use a USB flash drive for saving the downloaded updates. The Microsoft Update website also lists earlier versions of Office, so you can find updates for older products as well.
To get started with manually downloading updates, simply click your product name on the left column of the page under "Products." Next, click the update that interests you under "Available Downloads." You will then see a yellow "Download Now" button that takes you to the appropriate page for downloading the update. Click the "Download" link on the page to download the update. If you're using a USB flash drive, you can select the flash drive as the save to destination. When you get the USB drive connected to your Mac, just double-click the downloaded update file to launch the setup wizard. You'll be guided through each step to complete the update successfully.
References
All screenshots made by author and all references from Microsoft Office 2011 for Mac
Microsoft Office 2011 for Mac's official product website: https://www.microsoft.com/mac/