A Guide to Installing a Microsoft Powerpoint Viewer on My Mac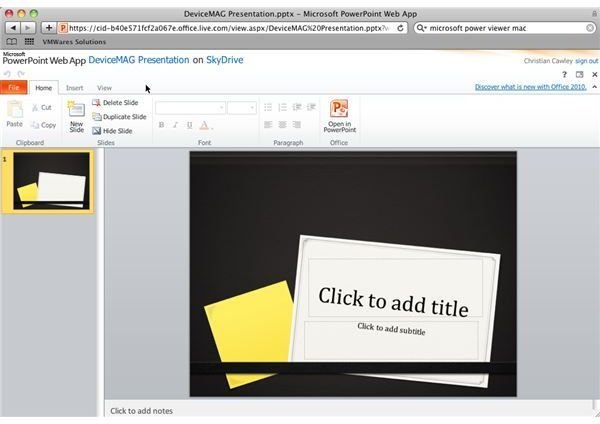 How Can I View PowerPoint Files on My Mac?
Microsoft Office is a popular productivity suite for Windows and Mac users alike, but while many prefer the iWork suite just as many users don't have any office software on their Mac at all.
This can lead to problems from time to time, most notably when someone emails you with a document that can seemingly only be opened in one of the Microsoft formats. For instance you might receive a PowerPoint presentation to view, but without having the right software installed doing so could prove expensive.
One way around this might be to take advantage of a Microsoft PowerPoint viewer for your Mac. However this viewer is only available for Mac OS 9 users.
Ultimately there is no official Microsoft PowerPoint viewer for Mac OS X and later. The alternative is to take advantage of Microsoft Office Web Apps, where PowerPoint and other Microsoft Office applications are available to be used for free.
Installing a Microsoft PowerPoint Viewer on Your Mac
Capable of viewing documents created in PowerPoint for Mac 98 and limited to OS 9 users (either with the original OS or in legacy mode on older Mac OS X devices) the official Microsoft PowerPoint view for Mac can be found at www.microsoft.com/downloads.
Use the Download link to save the file on your Mac. The minimum specs for this viewer are pretty low. Your Mac should have a PowerPC processor of at least 120 Mhz, system 7.5.5 to 9.x and 32 MB of RAM, with a color display with greater than 256 colors. Note that this viewer is not suitable with Mac OS X.
The next step is to save the file; once this is done you can install the viewer by double-clicking the Microsoft PowerPoint View file. Microsoft PowerPoint Viewer will install to your hard drive, and you can launch the utility by browsing to the installation folder.
The Online Option
As the above instructions are only for people with access to an OS 9 computer, the rest of us will need something a little more robust and legacy free – which is exactly what Microsoft have done with Microsoft Office Web Apps.
By browsing to www.skydrive.com and logging in or signing up to Windows Live (you can use a Hotmail or Messenger account) you get access to Microsoft Office Web Apps, an online version of Microsoft Office that features stripped down editors for Word, Excel and PowerPoint.
Using this option you don't need to add additional software to your Mac, just upload the presentation to your SkyDrive (created when you signup to Windows Live) browse to the Office Web Apps page and open the presentation!
(Screenshot by author)
NeoOffice – the Last Alternative
One final option is to consider an alternative application or suite. NeoOffice is a popular free and open source alternative to Microsoft Office: Mac that features a free PowerPoint-compatible presentations editor.
Installing NeoOffice is simple – visit www.neooffice.org/neojava/en/download.php and choose the option for your system (Intel and PowerPC download options are available).
After download has complete, find the file in the Downloads folder and double-click – a Finder window will open, containing the NeoOffice installer file. Double-clicking this will begin the installer, and once complete you will find NeoOffice in the Applications folder.
References
PowerPoint 98 Viewer for Macintosh, https://www.microsoft.com/downloads/en/details.aspx?FamilyID=e25cb1e5-209c-4a58-b283-23e84b616477&displaylang=en
NeoOffice, https://www.neooffice.org/neojava/en/download.php