What to Do if Word for Mac Photo in Textbox Does Not Print as Docx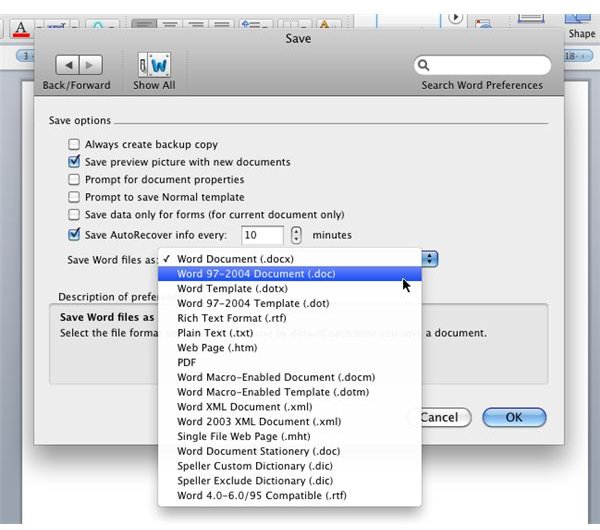 Microsoft Office: Mac 2011 - Bug Free?
Microsoft Office: Mac 2011 gives Mac users the ability to enjoy the same Office suite and functionality as Windows PC users.
With Word, Excel, PowerPoint and Outlook all included, the only major difference is in the user interface, which on Mac OS X dispenses with the "ribbon" toolbar in favour of something more traditionally "Mac".
While the products have the same name and the functionality is largely the same, however, there are some differences. For instance you might have problems with the odd niggling bug, such as when you find that Word for Mac photos placed in textboxes do not print when saved in DOCX format…
Help! Photos in Textboxes Don't Print in DOCX Format!
Word for Mac users will find that this problem occurs in the 2011 release of the software, and while frustrating there is as yet no bug fix.
However there are a couple of ways in which the problem can be "worked around".
The problem occurs when you add an image into a portion of text in your Word document, save the document in DOCX format (the XML-based alternative to DOC format) and attempt to print.
Resulting printer outputs will feature all of the next but not the previously added image, which is obviously a frustrating omission. Thankfully there are some workaround, such as changing the format of the document and adding the images in a different way…
Save Your Document in DOC Format
By default Microsoft Office: Mac 2011 saves your documents in the modern DOCX format. While compatible with most other office suites that are currently available on Mac, Windows and Linux, this format is still generally thought of as a "new" feature, and the DOC format used in Word 97-2004 continues to be widely used.
It is also a good way around this particular problem, as saving your document in DOC format provides what is probably the easiest workaround.
To save your document in DOC format, go to File > Save as, and change the entry in the Format: drop down box to Word 97-2004 document (doc).
If this issue is likely to affect you considerably in the future, you might like to set saving as DOC as your default format. This can be done via Word > Preferences > Output and Sharing > Save, where you can change the default method for saving documents using the Save Word files as: drop down box to Word 97-2004 document (doc).
Adding Images in a Different Way
While saving this and other documents in DOC format might be preferable, it might not suit the needs of your colleagues or organization.
Another workaround is to use a different method for adding images. Rather than add the image in the traditional Home > Insert > Picture manner, instead first add a tablet with a single cell (Tables > New) and add the image into this.
Using these workarounds you should be able to overcome the problem printing photos and images in your Word for Mac document!
References
Office for Mac Product Forums, https://www.officeformac.com/ms/ProductForums/Word/13258