Software to Organize Bookmarks: Top 5 Mac OS Apps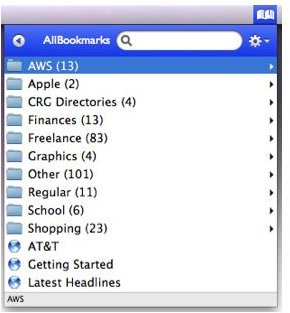 AllBookmarks
Gain quick access to your Safari, Firefox and OmniWeb bookmarks with AllBookmarks. This program also acts like a password manager, giving you access to your 1Password 1Click bookmarks so that you can navigate a page, fill out a form and submit it with one click. AllBookmarks works with Leopard and Snow Leopard.
Source: Agile Web Solutions
Delibar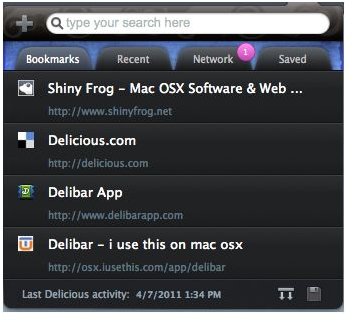 Delibar is a Delicious and Pinboard Mac client that gives Mac users the ability to search, manage and share their bookmarks. You have the option of getting the free version or the pro version. The free version is limited to searching only, while the pro version lets you have all of the features. The cost for the pro version is $18. It works with both Leopard and Snow Leopard.
Source: Delibar
Webbla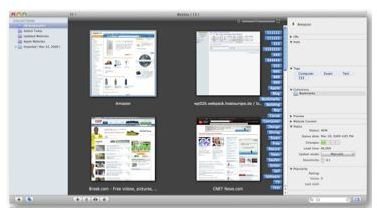 Webbla is a visual bookmark manager that offers a variety of features. For instance, you can personalize your bookmarks with tags so that you can find them easier. The visual display makes this program unique because you don't have to rely on the website's titles.
You can import your HTML bookmark files that you exported from Safari, Firefox or Delicious. Add or modify bookmarks while surfing with your favorite web browser, thanks to the shortcuts feature. These shortcuts will work with Camino, Firefox, OmniWeb, Opera, Safari and more. A free trial is available for Webbla. The price for a single license is $22.98.
Source: Celmaro
Bookit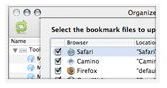 Bookit allows you to read and write bookmarks from various browsers. While it supports a variety of browsers, such as Safari and Internet Explorer, it does not support Firefox 3., iCab 4 or Shiira 2.
Add missing bookmarks by dragging them into your list. Create a new bookmark file that will work in all of your browsers. Then sync them with .Mac or AppleShare so that you can access them from home or at work. Edit your bookmarks' titles in the information window if you don't like the way that they are saved. Bookit is compatible with Mac OS 10.3.9 and higher.
Source: Everydaysoftware.net
Little Bookmark Box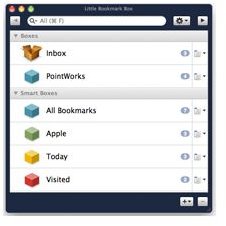 With Little Bookmark Box, you can store and manage interesting links while surfing the web. Do this by dragging a URL onto the menubar icon, click on the Safari Extension or Bookmarklet to create a bookmark in your Inbox. Organize your links as you go, or wait until you are finished surfing.
Group your bookmarks by a certain criteria, such as "visited today" or "my favorite blogs" into a Smart Box. These Smart Boxes will update if you add, change or remove bookmarks. You can also add tags to further manage your bookmarks. All of your bookmarks are stored in one place, whether you want them for temporary reading or to store them indefinitely. Little Bookmark Box requires Mac OS X 10.6 or higher with an Intel processor. A free trial is available. A single license costs $9.95.
Source: Point Works
References
Agile Web Solutions - Allbookmarks - https://agilewebsolutions.com/allbookmarks
Delibar - https://www.delibarapp.com/
Celmaro - Webbla - https://www.celmaro.com/webbla/
Everydaysoftware.net - Bookit - https://www.everydaysoftware.net/bookit/
Point Works - Little Bookmark Box - https://www.pointworks.de/software/little-bookmark-box/index.php