Accessing Mac Os X Dropbox from Windows 7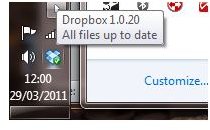 Dropbox - Cloud Storage For Windows, Mac, Linux and Mobiles!
Dropbox is the popular cloud storage system that allows you to sync and save your favourite files and folders online and access them from any Internet-ready computer.
Different capacities are available, with a free 2 GB account one of the most popular choices, although much larger limits can be purchased for a monthly fee.
Available for Windows, Mac, Linux and iPhone, iPad, Android and BlackBerry devices (with third party solutions for Windows Phone) Dropbox is one of the best supported cloud storage solutions and certainly one of the most popular. Once data is saved in the cloud it can be accessed from another computer or operating system – for instance, accessing Mac OS X data in Dropbox from a Windows 7 machine is quite possible.
The Setup Scenario
So we're going to assume that you have a Dropbox account and that you use a Mac OS X computer most of the time, but want to access the data in your Dropbox account from a Windows 7 device.
This might be to copy music or video data to your Windows 7 computer or to save data from your Dropbox account onto a USB storage device currently connected to the Windows 7 PC or laptop.
Alternatively you might have a file saved in a format that you can open in Windows – for instance Microsoft Office: Mac uses the same file formats as Microsoft Office in Windows, so a Word or Excel document can be shared via Dropbox in this way, assuming you have Microsoft Office installed.
However you will be unable to do any sharing unless you have Dropbox installed on your Windows PC.
Downloading the Dropbox Client for Windows
To get started with Dropbox on a Windows 7 computer, visit www.dropbox.com and click Download Dropbox. Your operating system will be immediately detected and the appropriate version of the software prepared for download.
Choose Save File and once the download is complete run the .EXE file, clicking Install to begin the installation procedure.
This shouldn't take too long, and when completed the Dropbox client will be installed, allowing you to access your Dropbox account from the Windows 7 computer. Once the software is installed, you will see that the Dropbox client can be quickly accessed via the Windows system tray.
Accessing Dropbox in Windows 7

Accessing your Mac OS X data from your Dropbox account in Windows 7 should be a simple case of signing into your existing Dropbox account via the Windows 7 client by choosing I already have a Dropbox account.
The Dropbox account will then appear on your Windows PC as a new folder, visible in Start > Computer listed under Favourites. You will be able to open this folder to view the data that you have saved form your Apple Mac, and any compatible data formats will then be available to open in Windows.
Congratulations - you just shared data from your Mac to a PC via the cloud!
References
Screenshots and references from Dropbox client for Windows 7.