Must Visit Mac Os X Bulletin Boards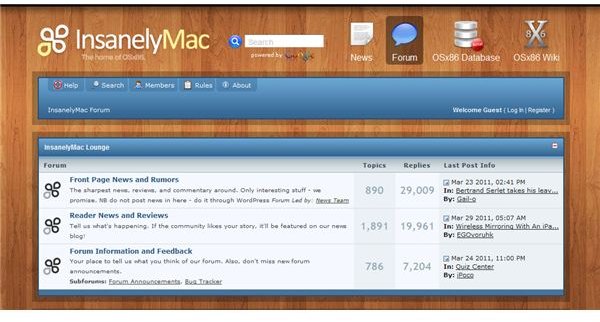 Eat, Sleep, Breathe and Chat Mac!
Mac enthusiasts don't just own and use a Mac, they eat, sleep and breathe Apple. While this description might apply to all owners of Apple Mac computers, some are more hardcore than others, and as such might like an online home to chat with other Mac users.
Typical places might be bulletin boards, forums or online groups where Mac owners can share tips and information about using their computers and how to get the most out of them.
As it happens there are many places on the web fulfilling this very service, so let's take a look at the ones you shouldn't miss!
Top Mac OS X Bulletin Boards You Should Visit
If you have a few minutes to spend checking out each of the following groups you should find a nice online home for you Mac OS X love. The first four selections are all part of larger websites offering news and Mac-related services and support.
**
InsanelyMac – possibly the world's most popular online Mac community, even InsanelyMac's name is itself "insanely Mac" as it recalls Steve Jobs' famous "insanely great" description of an early Mac. Featuring considerable support and discussion about all things Mac, InsanelyMac (pictured) also has discussion boards for overseas users for whom English is not a first language.
MacRumours – probably the most comprehensive discussion forum for Mac users, MacRumours features a busy news board (hardly surprising given the name of the website) as well as boards for every current Apple product you can think of, not to mention using Windows on a Mac with Bootcamp.
MacWorld – the popular MacWorld Hints forum offers a lot of help to existing Mac users looking to find out more about the platform. Here you can discover the answers to questions about AppleScript, OS X Server, UNIX and even using Classic (OS 9) environment for running legacy applications.
MacOSX.com – offering help, general community chat, help for Windows to Mac switchers and even scripts, MacOSX.com is a great place for Mac OS X users to find out more about the platform's true limits, something that is apparent when you first visit the forum.
Apple Discussions – suitable for anyone who owns any sort of Apple device, Apple Discussions is the official support forum where thousands of users from around the world contribute questions and solutions, with the odd interjection from approved technical moderators. If the other bulletin boards seem a little casual for you, this is the spiritual home of Apple Mac OS X communities on the web.
Screenshot by author
Finally… Usenet
In addition to the thriving online communities of InsanelyMac, MacRumours and all of the others are the rather retro – but still active – Mac user groups on Usenet.
If true bulletin boards ended with the birth of the World Wide Web, then Usenet was the next step on the march towards modern forums, grouping together all such bulletin boards into "newsgroups" and making them available in newsreader applications.
More recently the Usenet groups have been incorporated into Google Groups, which means you no longer need a dedicated newsreader to view them, and it is here that you will find a wide selection of computing groups dedicated to Mac OS X. Some may be busier than others and some are positively empty but these groups are fully searchable back to the days when they were regularly used.
You can find a good list of the available groups by checking this search of Google Groups.
References
InsanelyMac, https://www.insanelymac.com/forum/
MacRumours, https://forums.macrumors.com/index.php
MacWorld, https://hintsforums.macworld.com/
MacOSX.com, https://macosx.com/forums
Apple Discussions, https://discussions.apple.com/index.jspa?categoryID=1