Mac OS X Vuze, Enjoy Your Torrents More Than Ever!

Today we're going to have a look at one of the best applications for managing torrents on your Mac. I'm talking about Vuze [Download Link].
In this page you will see how to easily search for and download content and also discover the power of Vuze as multimedia playback software.
Search & Download
To download a torrent file you usually need to search for the torrent on Google, download it and then import it into your peer to peer file sharing software for OS X.
Vuze makes this much easier, with Vuze you have a built-in search function that will simplify the process of finding media. In the top left corner there is a big search field, where you can insert keywords. The results will then be displayed in a dedicated page. Choose the "Meta Search" label and you will see the age of the file, its dimension and an overall rating that will clearly identify how good the file is. With these three parameters you will have a better chance of getting the file you are looking for in a half-decent quality. Click the download button and you will be brought to the website from where you are downloading the file. The torrent will then be downloaded and your media will start to be transferred to your Mac.
A Great Media Player
As you will discover after installing Vuze, this program is not only a great torrent downloader, but it is also a great way to convert your media. There is the possibility to activate a beta function called "Device Playback". With this function turned-on, Vuze will identify all the compatible devices connected to your system and it will list them on the left toolbar.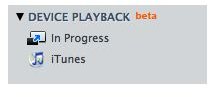 Why is this function so special? Well, imagine you're downloading an .avi file: you know it's not compatible with iTunes. Now, instead of having to wait for the file to be fully downloaded and to be converted by another program, you can perform all these tasks directly inside Vuze. Immediately after the download has started, you can put that file in the transcoding queue. When Vuze detect that the file is at a good percentage of completion, it will automatically start to convert it into a format that is compatible with the device you've chosen. The compatibility list of Vuze is really wide and that means that you can convert a file for almost every possible playback device.
But this is not all. The great advantage of using Vuze, is that you can play your media right inside this app and send the stream to a remote device without having to leave the torrent app in order to open a separate one.
Conclusion
Vuze is really the best solution to manage your torrents and your media in general. The clean UI will make every operation simple and you will enjoy your files for real.
You won't find Vuze on the Mac App Store, but you can download it for free from the developer's website [Download Link].
References
All screenshots taken by the author