Where Can I Find Great Template Sites For IWork Numbers?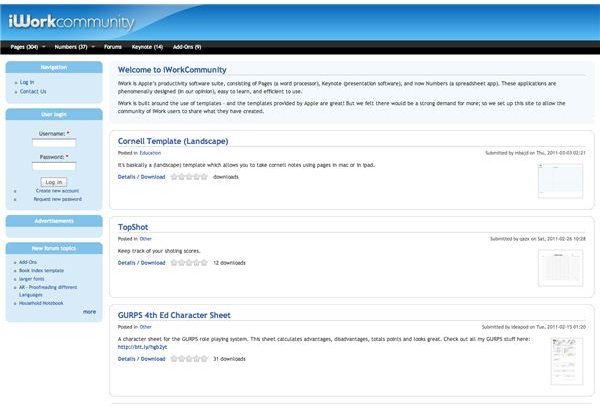 Where Can I Find Great Template Sites For IWork Numbers?
iWork Numbers, the spreadsheet analysis program in the Apple iWork suite, has various templates built into the software. When you use an iWork Numbers template, the design and functionality of the worksheet will automatically be set up and defined. Templates are used so that you simply need to input the data.
You can find additional templates for iWork Numbers on the Internet. There are various websites and communities set up to distribute Numbers content.
iWork Community
The iWork Community is a general iWork template website. Whilst most of the templates are for Pages, the second largest section of the site is for Numbers. The Numbers templates are sub-categorized per sector: Business, Education, Finance, Personal and Other. Each template can be rated by users and has a download counter so that you can judge the template's popularity. The iWork Community also allows viewers to sign up for an account so that you can discuss the templates and ask questions if necessary. On average around three to five Numbers templates get uploaded each month.
The iWork Community website, along with templates for other iWork products - Pages and Keynote - features various add-ons that can be used with the software suite. You may find many of these useful to use in conjunction with Numbers Templates.
iWork Templates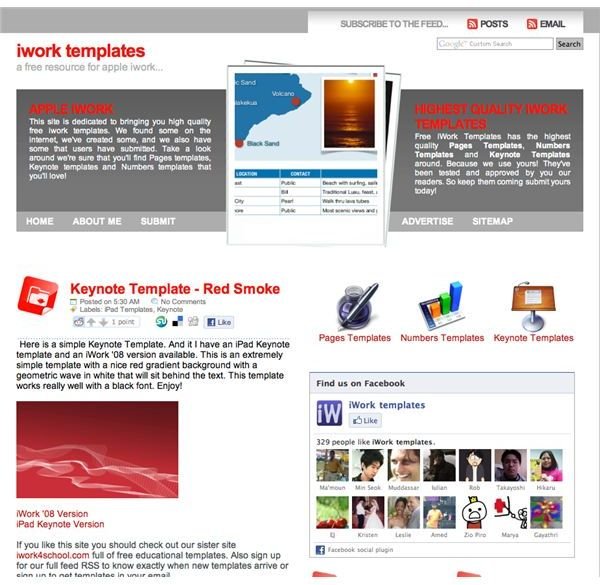 The iWork Templates site is a blog that, like the iWork Community, posts templates for all aspects of iWork. The website can be easily divided so that you only view the Numbers templates. The content on iWork Templates is a combination of their own content, aggregated templates, and user-submitted content.
iWork Templates distributes a variety of template types including business-based budgeting and personal planning. The site allows you to comment on each blog post and share it via social media. iWork Templates has its own Facebook and Twitter pages, so it it is easy to follow, no matter how you browse the Internet. iWork Templates also has a list of the most popular templates, this is useful if you want to judge a template's popularity.
Numbers Templates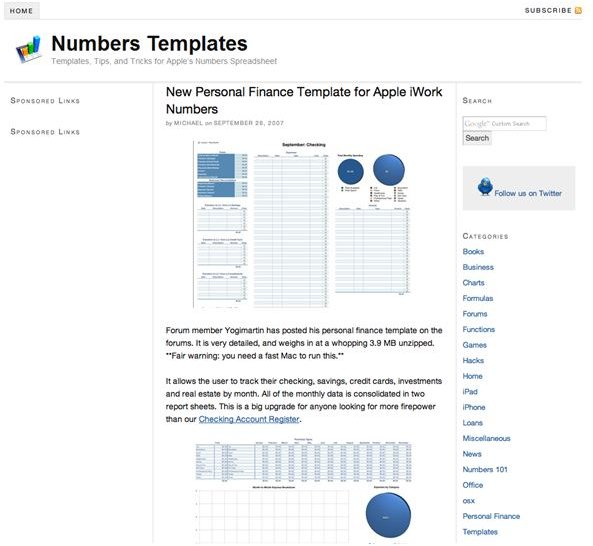 is a blog that aggregates different iWork Numbers templates that have been published online. The blog features a small selection of links with mini-reviews and large scans of each template per blog post. The website is updated sporadically but the existing content linked is nicely designed with good write-ups. Numbers Templates is dedicated to iWork Numbers and so you will not have to browse through alternative program content. Numbers Templates allows you to subscribe to the feed via RSS, so you can easily keep track of site updates.
Along with iWork Numbers templates, Numbers Templates also offers news and update information for Numbers, both for the Mac and the iPad.
References
"iWork Community", www.iworkcommunity.com/
"iWork Templates", iworktemplates.blogspot.com/
"Numbers Templates", www.numberstemplates.com/
Additional Links
"IWork '09: Numbers - Easy as 1, 2, 3", www.brighthub.com/computing/mac-platform/articles/26580.aspx
"Great Resources for Apple Pages Templates", www.brighthub.com/computing/mac-platform/articles/109380.aspx