How to Erase a Hard Drive on Mac OS X

Some Precautions
Before you begin, it's a good idea to back up any important data. The easiest way to do this is to use Mac OS X's Time Machine utility to make an image of your system or external hard drive. If you don't want to use Time Machine, you can simply copy files and folders to an external hard drive or USB flash drive within the Finder window. After you're sure you have all of your important data backed up, you are ready to continue.
How to Erase Your System Hard Drive
If you want to erase your system hard drive, you will need the Mac OS X installation DVD that came with your computer. First, the DVD includes the Disk Utility software that you need to erase the drive. Second, you'll need this DVD to reinstall your operating system. To begin the process, you'll need to boot your Mac from its DVD drive, which is a relatively easy process. Start your Mac and quickly insert the install DVD. Hold down the "C" key on your keyboard to boot from the disc.
The Mac OS X installation program will load and ask you for your preferred language. Select your language from the list and click the arrow in the bottom right corner. Click "Utilities" at the top of the screen and select "Disk Utility" to open the disk management software. You will then see a list of your hard drive(s) and will need to click on the system drive. You will see a list of tabs for actions to perform on the drive, so click "Erase."
Before you erase the drive, there's a few options you can consider. If you have personal information on the drive, you may want to use a secure erase method. Otherwise, popular data recovery tools can recover the data you erase from the drive. Click "Options" to view the options available. At the very minimum, you should select "Zero all data" to securely erase the drive. If you want a more secure option and understand that the process could take several hours, select the option for the "7-Pass" zero out method. Click "OK" to use your settings, then click "Erase" to erase the drive. You will be prompted to reboot and can then reinstall Mac OS X.
How to Erase External Hard Drives
If you want to erase an external hard drive or a secondary internal drive, you can erase the hard drive in Mac OS X without needing to boot from a DVD. In addition, the process is very similar to erasing a drive from the DVD. Open the "Utilities" folder and click "Disk Utility" to launch the program. Select your hard drive from the list on the left side of the program, click "Erase." At this point, you can choose your security options, if necessary. Choose the formatting method for the drive and click "Erase" when you are ready to erase the drive.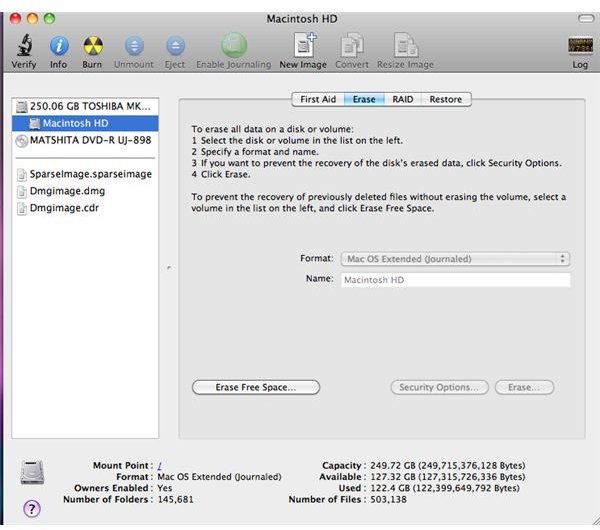 References
All screenshots taken by author and all references taken from Mac OS X Snow Leopard 10.6.6
Mac OS X Snow Leopard's manufacturer website: https://www.apple.com/macosx/
Mac OS X v10.6 Snow Leopard: How to Erase and Install: https://support.apple.com/kb/ht3910