Top Sources For Stock Charts On Mac OS X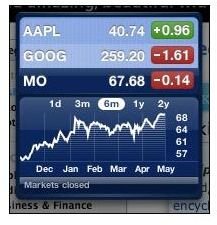 Stock Charts Beyond the Dashboard Stocks Widget
It used to be the case that the only way you could get stock charts for your Mac was through a web site or Apple's stock ticker and tracker hybrid widget. Today though this is not the case,. Thanks to the immense popularity that Apple's computers have enjoyed over the last couple of years, and the fact that more and more people on Wall Street are choosing to opt for a Macintosh. After all, when one of your screens is dedicated to the Bloomberg terminal then there really isn't a need to have Windows running in the background is there?
Best Sources for Stock Charts for Mac Os X
The best way to store, analyze and track stock changes on the Mac is definitely Stock Spy. Stock Spy has been billed as the most powerful Stock News analysis tool specifically designed for stock market traders as well as investors who need more than just the ticker price on their screen. Stock Spy is available for $80 and the cool thing about it is that you can try a demo version of the software before you actually spend money on it. Not only can you track the NASDAQ and the NYSE but you can go global with this software since it allows you to track all the well known stock exchanges in the world today.
In addition to giving you the latest stock information, the reason that this tool has received rave reviews from experts is that it gives your RSS based news feeds of your latest stocks and then lets you map the effect of the news on the stocks themselves. This makes it easy for your to see the effect that news has on your stock portfolio and the next time around, when something similar happens, you'll know what to expect. When it comes to trading on the fundamentals, there really is nothing else that beats Stock Spy for Mac OS X.
I Need Less Graphs and More Numbers!
If you are part of the crowd that prefers that their stock portfolio be shown to them as numbers but not graphed throughout, then you will want to check out Stalker 2.1 from the acclaimed software makers over at TorchWood. If you want to make sure that you are getting the most value for your money when it comes to simple stock charts that look like Numbers spreadsheets then Stalker is clearly the way to go! While it may be light on features, it is pretty cheap clocking in at only $14.99!
I Want to Know Everything!
If you've got the same inclinations as professional stock traders then you'll want to get all the information that you can about your stocks. For people like you BeeSoft has developed the ProTa stock tracker which truly is the mot pure stock analysis tool available for Mac OS X today. There are a number of interesting finance and money management softwares for OS X and you should give them a look as well in addition to having a look at the Bloomberg iPad app.
Image Credits and References