The Top Free Office Software for Mac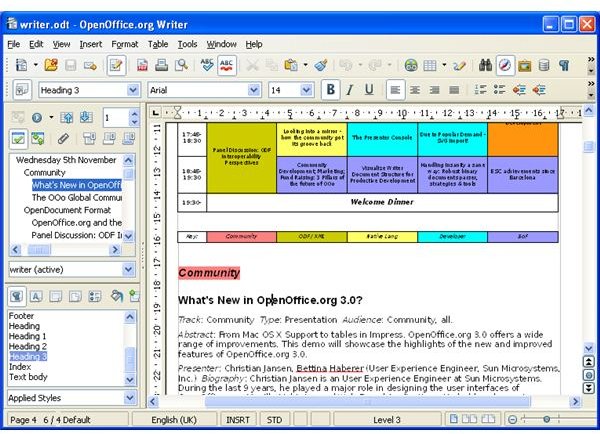 There are a variety of reasons you may be looking for free office software for Mac. Regardless of the reason if you are willing to take a chance on open-source and/or free software you might just be surprised how much money you save without sacrificing software quality. You may be saying to yourself, "but Michael, there is no way free software can perform as well as software that costs hundreds of dollars!", and to that I say "keep reading".
OpenOffice.Org
The office suite put out by the folks at OpenOffice.Org is an excellent example of open-source software performing just as well as it's overpriced counterparts. OpenOffice.Org has been under development for over 20 years and is the #1 free office software for Mac bar none. With the OpenOffice.Org suite of programs you can create, edit and share text documents, spreadsheets, presentations, graphics and databases. Starting to sound like another piece of proprietary software that costs a significant amount of money?
The OpenOffice.Org free office software for Mac is used by governments, businesses, educators and non-profits alike and thanks to it's policy of saving all documents in an international open standard format it puts no restrictions on the user when it comes to what types of files it can open. That's right. Documents created in Microsoft Office can be opened and edited in OpenOffice.Org and vis versa. The OpenOffice.Org policy of creating software with a "no secrets", open-source standard means anyone can look at the program code, suggest improvements, make improvements themselves, find and fix bugs and more. This allows the program to evolve quicker and the developers to implement the features users want with less hassle than it's proprietary counterparts.
OpenOffice.Org free office software for Mac comes with 5 major components; Writer, Calc, Impress, Draw and Base. Writer is OpenOffice.Org's full-featured word processor, compare it to Microsoft Office's Word. I have used the OpenOffice.Org Writer and Microsoft Word extensively and can honestly say there is very little difference between the two. Both are full-featured, have a user-friendly GUI (Graphical User Interface) and allow me to get my work done quickly and easily. The big difference between the two is of course, cost. Calc is the OpenOffice.Org spreadsheet application, compare it to Microsoft Excel. Impress is the OpenOffice.Org presentation application, compare it to Microsoft PowerPoint. Draw is of course the OpenOffice.Org application that allows you to work with diagrams and graphics while Base is the OpenOffice.Org database application.
As you can see you can easily accomplish most, if not all, tasks that you would normally do in Microsoft Office. For free. Give open-source software a chance. Try OpenOffice.Org today!
*NeoOffice is free office software for Mac that is based on Oracle's OpenOffice.Org office suite. The developers of NeoOffice claim to have added enhancements specific to Mac OS X speeding up the OpenOffice.Org code on Mac OS X. I have tried both and have found that some actions are slightly quicker in NeoOffice while others are significantly slower. Your mileage may vary. I encourage you to try both and make the choice based on your personal experiences.
Bean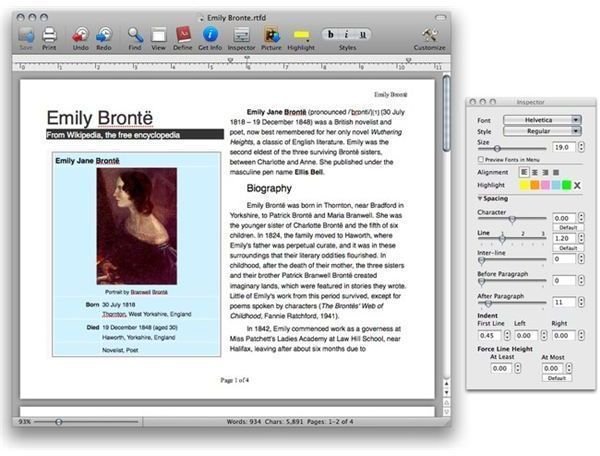 Bean is another free office for Mac title I'd like to mention here. While OpenOffice.Org is designed to be all things to all people in an office environment there are times when you just want a simple, easy to use program that makes you feel at home when you are writing. This is where Bean excells. Bean is a word processor (rich text editor) and a word processor only. Bean doesn't try to be anything more and does an amazing job at what it was designed to do… let you concentrate on writing. If you are a word-smith and your only function is to write, OpenOffice may be overkill. As far as word processors go, not much beats Bean. Bean is of course open-source and available free of charge. Give it a try today!
In Conclusion…
…give open-source software a chance. When it comes to free office software for Mac you can't go wrong with these two software titles. Giving open-source software a try may not only save you the headache of dealing with the numerous bugs in other office suites but also save you a fist full of money.
Image Credits and References