Discover the New Apple iMac for 2010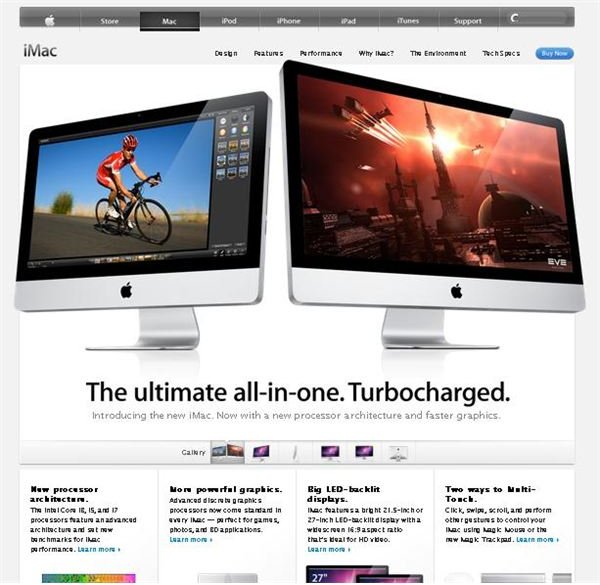 New Apple iMac for 2010
For 2010, Apple upgraded the iMac product line by updating the visual appearance of the product as with many Apple products, the
iMac is a work of art as well as a functional device.
To make the iMac more competitive and practical for Apple customers, the company introduced the latest line of Intel multi-core CPUs that come with amazing power efficiency and performance. With options for the Core i3, Core i5, and Core i7, shoppers received unprecedented flexibility in configuring an Apple iMac computer that would suit their needs.
The 2010 lineup also made a major change in its graphics units. In the past, Macintosh computers were equipped with NVidia video chips. The new series is equipped with ATI Radeon chipsets supplied by American Micro Devices (AMD).
Apple provides two display sizes for the 2010 iMac: 21.5" and 17", both with brilliant LED back lights that make them easy to view at almost any angle using Apple's trademark IPS technology. The smaller panel provides 1920 x 1080 resolution and the larger screen features an incredible 2560 x 1440 resolution.
The 16:9 aspect ratio is perfect for watching high definition video and for gaming.
Apple shoppers are also offered the ability to use multi-touch gestures with their iMac using either the Apple Magic Mouse or Magic Trackpad, allowing the iMac to be perfect for entertainment and for productivity. The wireless pointing devices combine with Apple's Bluetooth keyboard to provide for a clutter-free and productive workspace that fits almost anywhere.
Perhaps the best feature of the new iMac for 2010 is its environmental compatibility. The computer is designed to be extremely energy efficient, minimizing the user's carbon footprint. Another "green" feature of the product is that it is manufactured in a process that reduces toxins, meaning that the computer is safe for healthy homes and offices and is easily recyclable when it is no longer serviceable.
The new iMac for 2010 is concerned about the user's environment as well. Intelligent internal airflow controls mean that fans are sparingly used for cooling, providing for one of the quietest computers available.
The refreshed Macintosh product line was introduced to the world in July 2010.
Screenshot provided by writer
New Apple iMac for 2011
Apple Insider has reported that new rumors have surfaced that suggest that Apple will unveil an updated iMac computer together with anticipated new Mac Book Pro computers during the first half of 2011. The unspecified report seems to suggest that Apple will be changing the screen size on the all-in-one computer, but specifics remain unclear.
References
Oliver, Sam. "Rumor: Apple may refresh iMac alongside new MacBook Pros",https://www.appleinsider.com/articles/11/02/22/rumor_apple_may_refresh_imac_alongside_new_macbook_pros.html
"New iMac 2010 (PHOTOS): Apple Upgrades iMac Line With New Processors, Better Graphics",https://www.huffingtonpost.com/2010/07/27/new-imac-2010-photos-appl_n_660493.html
"iMac,"https://www.apple.com/imac/