How to Use a Mac OS X Skin for WindowBlinds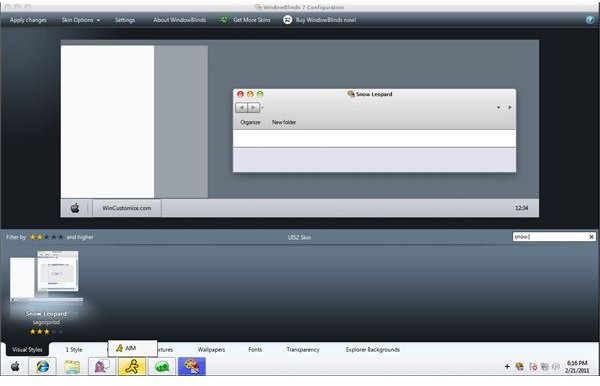 Finding Mac OS Skins for WindowBlinds
There are plenty of Mac OS skins available that you can use with the WindowBlinds software. In addition to the latest Mac OS X Snow Leopard theme, you can download themes for Mac OS X Panther and Tiger. Since many variations of the same OS theme are available, you can check out the Customize.Org and WinCustomize websites to view all of the themes available. Just type the Mac OS X version theme you are looking for in the website's search box to view a list of what's available.
After you find a theme you want to use, you are ready to download the theme. WindowBlinds uses WBA files for themes, although some websites may show a wallpaper you can download as well. For the two websites mentioned, click the Download button below the theme that interests you. If the file is a ZIP file, right-click the file and select Extract to extract the WBA file and any included wallpapers. Save the file to a location on your hard drive that you will remember or create a separate folder to keep all of your themes in place.
Applying a Mac OS Skin for Window Blinds
Now that you have your theme ready to use, you're ready to open WindowBlinds and apply the theme. Double-click the WBA file you downloaded and click the popup message that appears on the Windows notification area to apply the skin. WindowBlinds will automatically transform your desktop to the Mac OS theme you downloaded.If you ever want to install another Mac OS skin for WindowBlinds, you can use the same process to do so. After the installation completes, you will see an additional theme available on the 1 Style tab of the program. You can quickly switch between themes by double-clicking the theme on this tab to apply it.
If you also downloaded a desktop background, you will need to apply it to get the full Mac OS X desktop look. If you use Windows 7, right-click the image file you downloaded and select Set As Desktop Background. This will automatically apply the background without the need to change any settings in WindowBlinds. If you use Windows XP, right-click a blank area on the desktop and select Properties. Click the Desktop tab and click Browse to select your downloaded wallpaper. Click Open to apply it and OK to confirm.
If you ever want to revert to your original Windows desktop, right-click the WindowBlinds icon in the notification area and select Unload WindowBlinds.Your desktop will then return to the default for your operating system. You can also select a different desktop background by right-clicking your desktop and selecting Personalize for Windows 7. Select the Desktop Background option near the bottom of the page and choose a new image to use. If you use Windows XP, you can return to the Properties window and click Browse to select a different wallpaper.
References
All screenshots and references taken from WindowBlinds 7.2
WindowBlinds Official Product Website: https://www.stardock.com/products/windowblinds/