Round Up of Bus Powered USB Hubs for Mac Mini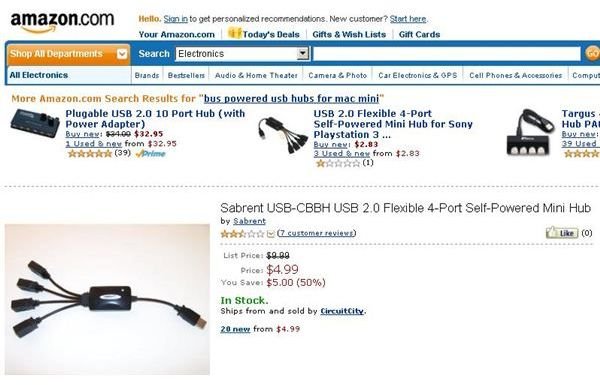 Top USB Hubs for Mac Mini
The Mac Mini is an ultra-small footprint computer designed for PC owners who want to switch to the Macintosh. Because of this, the Mac Mini does not come with a keyboard, mouse, and monitor.
The Mac Mini has a built-in power supply, and has an HDMI output jack so the computer can be used with a high definition television set and be used as an alternative to the less-expensive Apple TV device. The USB ports on the Mac Mini are standard jacks, so virtually any USB device will work with it.
Here we take a look at bus powered USB hubs for Mac Mini computers to help users get the most out of their Apple experience.
Sabrent USB-CBBH USB 2.0 Flexible 4-Port Self-Powered Mini Hub
The first of the bus powered hubs considered here is the Sabrent USB-CBBH USB 2.0 Flexible 4-Port Self-Powered Mini Hub. This hub conveniently connects up to four USB devices at once eliminating the need to juggle cables while trying to use a single port.
This hub is very compact, making it easy to transport in a pocket, purse or briefcase. Because it draws all of its power from its host USB port, no clunky power adapters are needed to make the USB Hub work.
Shoppers can find this self-powered USB hub by Sabrent at Amazon for around $5.
Tripp-Lite U222-004-R Self-Powered Hub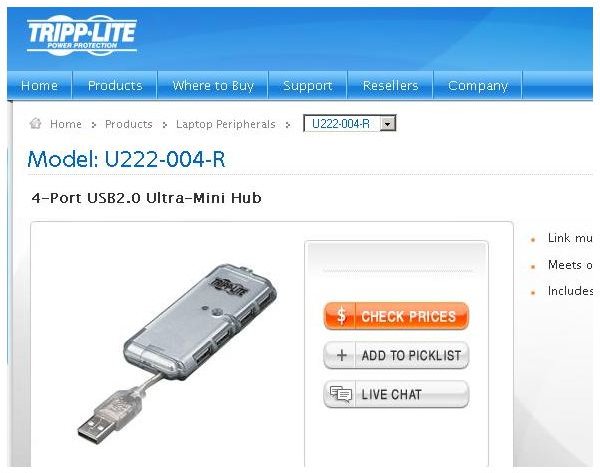 The Tripp Lite 4-Port USB 2.0 Self-Powered Ultra-Mini Hub - Hub - 4 Ports is a small, rigid self-powered USB hub that may make perfect sense for use with the Mac Mini. This USB hub either meets or exceeds all USB 2.0 specifications and supports data transfers of up to 480 Mbps.
One thing that sets this self-powered hub apart from some of the others in its class is that it comes packaged with an AC adapter. This appears to contradict the "self-powered" description, but according to Tripp-Lite, it is included in the rare cases when the devices connected to it overload the power capabilities of the host USB port.
The Tripp-Lite U222-004-R is framed by molded plastic so some users may find it a little bit easier to use than similar devices that are composed primarily from cables.
At the time of this writing, the Tripp-Lite U222-004-R is for sale at Amazon for less than $20 (pricing and availability can change without notice).
StarTech ST4200MINI 4-Port 480Mbps Self Powered Mini USB 2.0 Hub PC/Macintosh
StarTech offers the ST4200MINI bus powered USB hubs for Mac Mini and other computers for around $15.00 in its online store.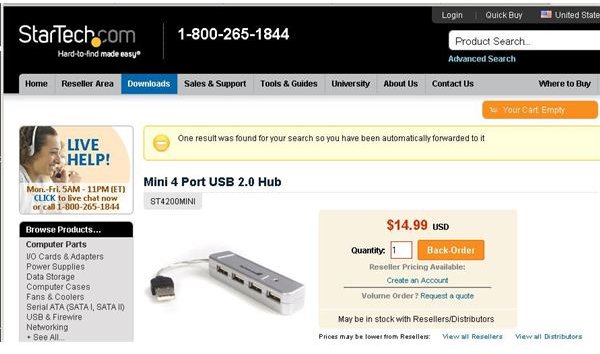 This USB hub allows users to connect up to four USB devices to one physical USB port on a computer, greatly extending its use. This hub has a plastic enclosure and is said to be completely compatible with older version USB ports.
References
Screenshots provided by writer
"Mac Mini", https://www.apple.com/macmini/
"Sabrent 4-port USB 2.0 Hub - Bus powered, Flexible Liberator Cable", https://sabrent.com/v2/4-port-usb-2-0-hub-bus-powered-flexible-liberator-cable/
"Tripp-Lite U222-004-R Self-Powered Hub", https://www.tripplite.com/en/products/model.cfm?txtModelID=2524
" Mini 4 Port USB 2.0 Hub", https://us.startech.com/product/ST4200MINI-4-Port-Notebook-Sized-Mini-USB-20-Hub