A Summary of the Mac Pro Mini DisplayPort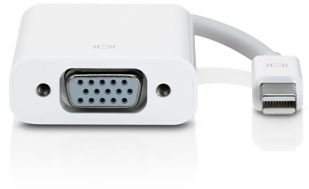 The Mac Pro
Many of us dream of the day we will be able to afford a Mac Pro. This PC (Personal Computer) is a powerhouse and generally considered to be the best Apple PC on the market. The Mac Pro is loaded with features, including supporting up to 12 cores of processing power and 6 displays. That's right … like I said before, this PC is a powerhouse. In order to make use of 6 displays on the Mac Pro you will have to use 4 separate Mini DisplayPorts on 2 different graphics cards. Lets take a look at the Mac Pro Mini DisplayPort as well as the adapters you will need to use each.
Mac Pro Mini DisplayPort Adapters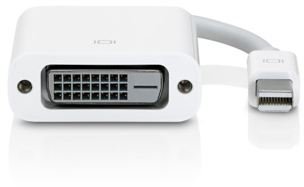 The adapters available for the Mac Pro Min DisplayPort are standard to Mac PC's. With 4 Mac Pro Mini DisplayPorts available to you (assuming you installed 2x graphics cards) you can mix and match your displays fairly easy. The available adapters for your Mac Pro Mini DisplayPorts are:
Mini DisplayPort to VGA adapter
Mini DisplayPort to DVI adapter
Mini DisplayPort to Dual-Link DVI adapter
Each of these adapters convert the video signal from the Mac Pro Mini DisplayPort to a format your external display can understand. You can easily attach VGA monitors, projectors and TV's, DVI monitors or TV's or as many Apple HD Cinema displays as you can afford. The ability to mix and match different external displays making use of several different connection methods is just one of the features that make this PC such a powerhouse.
* You may have noticed in my introduction I mentioned that you can connect up to 6 displays to the Mac Pro, and this is true however 2 of the connections on the included graphics cards are Dual-Link DVI ports.
How Many Displays Do I Need?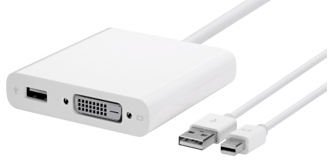 This questions is generally answered by asking yourself two very important questions. The first question is "What will I be using this Mac Pro for and how many displays is overkill for the work I am doing?", and the second question is "How many displays can I afford". In most cases the Mac Pro is purchased by multimedia professionals and not casual users. If you have purchased your Mac Pro for it's processing power, making use of the 12 cores of processing power, then a display or two would probably suit you just fine. If you have purchased your Mac Pro for photo manipulation and presentation then there is really no such thing as too many displays. If you are a hobbyist that has purchased your Mac Pro because you can afford the best Apple PC and must have the best at all times … First of all I'm jealous and secondly I say go for 6 displays if you can afford it. You only live once!
Image Credits & References
Screenshots and references from: