Troubleshooting MacBook Airport Card Problems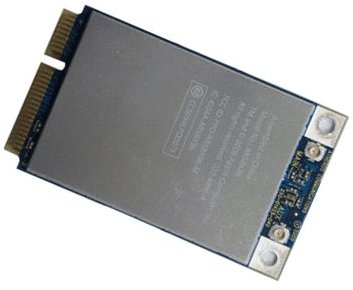 Airport Cards Aren't Just for Airports!
So you are at the airport about to get on a flight and think to yourself, why not get a little bit of work done while I'm at it. So you pop open your trusty MacBook or your new fangled MacBook Air and when you try to connect to the airport's WiFi connection up pops an error that says your Airport Card isn't installed.
"Weird…" you say, and try to connect to the Starbucks WiFi connection. Same problem! So what is going on here? Does your MacBook need a special card to connect to WiFi connections at the airport? Not really. The Airport Card is the name that Apple has given the hardware module inside your computer and boy can it be confusing sometimes.
Restart Your Mac - Restart Your MacBook Airport Card
Anyway, when an error like this pops up, it means that something is wrong with the WiFi card in your computer which means you will need to check if you are plagued with any of the following problems:
Repeated dropouts - your connection lapses and reconnects sporadically.
Poor wireless throughput - you experience slow internet speeds.
AirPort Base station is not recognized or doesn't appear in the available networks drop-down.
Cannot connect to the AirPort Base station included or you get the "Error joining network" message repeatedly.
No Internet Access or Airport Base station can be connected to from other computers, but you don't get any actual internet access.
Built-in AirPort hardware not recognized (the case that I mentioned above).
System will not automatically reconnect to network after sleep.
Weak reception or poor signal strength.
The solution to all of these problems might sound a bit too simplistic but here it goes - restart your computer. Once you restart your computer you you will be able to exclude any driver problems and system hangups that usually happen. If your computer displays the same error again then you want to try and update your drivers if you're using Apple's Base Station or Airport Express.
Check if Your System is Up to Date
Thankfully, doing this on your Mac is pretty easy since all you have to do is click on the Apple icon at the top left of your screen and click on the "Software Update" option that is under the "About This Mac" option. Your system will update all software and also add any new drivers for your Airport Card in the mix.
But it says "Airport Card not installed"! Well, unless you're pretty good with a set of Torx screwdrivers I would suggest that you take your computer in to your local Apple Store whether it is under warranty or not because there is no easy way to fix hardware problems like these yourself. In addition to that you won't be able to diagnose if something is wrong with your MacBook Airport Card and it has not just come loose or something like that. If it needs to be replaced, it would be pretty hard to source a replacement card by yourself now wouldn't it?
If you're using an iMac then have a look at Christian's awesome Replacing Your Airport Card: iMac User Tips as well as Help! My MacBook Pro Airport Card Keeps Disconnecting!, which might also be of use.
Image: ebay.com