A Guide on Album Artwork for iTunes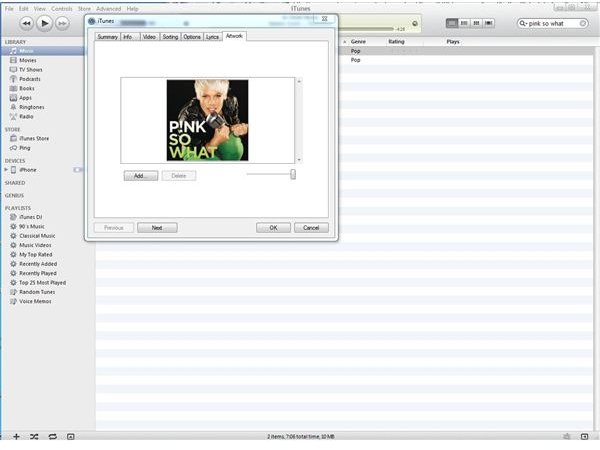 Finding and Adding Album Artwork for iTunes
While iTunes automatically downloads available album artwork when you purchase an album or song, music that you manually add to iTunes may not have any artwork. Thankfully, there are a variety of ways to find album artwork that you can use for your tunes. The first option is using the "Get Album Artwork" feature in iTunes. If your songs are also sold on the iTunes Store, there's a good chance you can quickly retrieve album artwork with this option. A bonus of this method is that iTunes automatically applies the artwork to all songs that you have for that album. Do the following to retrieve artwork in iTunes:
Right-click a song from the album that needs artwork and select Get Album Artwork.
Click Get Album Artwork on the confirmation dialog box to allow iTunes to find the artwork.
Click OK when you are notified if artwork was found or not.
If iTunes can't find artwork for your album, don't worry. There's plenty of websites you can use to find artwork for just about any CD. Albumart maintains covers for both CDs and DVDs and has a helpful search feature. Just type the album or artist name to view a gallery of covers. If you can't find your album artwork on this website, another helpful website is CoverHunt, which also lets you search for and save artwork. Whichever option you choose, right-click the picture and select Save As to save it to your computer. Do the following to add the album artwork to iTunes:
Highlight each song on the album on iTunes by clicking and holding down Shift. Select Get Info from the submenu and click Yes to confirm that you want to edit multiple items.
Click the Info tab and click the box under Artwork.
Locate the image you saved on your computer and click Open. Click OK to exit and apply your artwork to all songs on the album.
Deleting or Changing Existing Album Artwork for iTunes
In addition to adding artwork, iTunes also lets you remove, change and even add additional album covers to your music. Furthermore, you can choose to change a single song's artwork settings. If you want to change the cover for either a single song or a full album, or if you want to add an additional cover to a single song, just do the following:
Right-click a single song or Shift-Click multiple songs, and select Get Info.
Click the "Artwork" tab if it's a single song or the Info tab if it's an entire album.
For single songs, click the album artwork's icon and click Delete only if you are changing the artwork. Click Add and locate the new image you want to use. Click Open and OK to apply it. This will remove an existing image if you are changing the artwork, or it will add an additional image if you are just adding one.
For an entire album, double-click the artwork's icon and select your new image in the dialog box. Click Open to apply it and click OK to close the window. iTunes does not allow you to use multiple images for an entire album at this time, but you can use the single song method if you wish.
If you want to delete the artwork associated with a song or album, you can also do this by following a similar process. For single songs, you will click Delete under the album artwork on the Artwork tab. If you want to remove the artwork from an entire album, you will deselect the check box next to the album's icon on the Info tab.