Have iTunes? Rent movies! A How-To Guide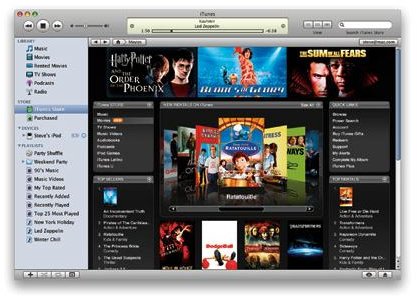 Overview of iTunes Movie Rentals
iTunes allows you to rent a movie that you can view on your computer or on your iPod, iPhone, iPad or Apple TV. You will need to have iTunes 10 or later on your computer to rent movies, and you'll need iOS 4.2 or later if you want to view rented movies on your iOS device. In addition to standard definition movies, iTunes offers some movies in HD. While standard definition movies can range from $2.99 to $3.99 per rental, high definition movies usually run at $4.99.
After you download and rent your movie, you have 30 days to view it before iTunes deletes the movie from your computer. Once you begin playback, you have 24 hours to complete the movie. You can view the movie as much as you'd like during the 24 hour period, but you can only have the movie on one device at a time. For example, you will not be able to watch the movie on iTunes if you already transferred it to your iPhone or Apple TV. The only limitation is that you can not view movies on your computer that you have downloaded directly to your iOS device. If you think you may want to view your movie on a larger screen, you should purchase and download the movie directly through iTunes on your computer.
How to Rent a Movie on iTunes
Now that you know the requirements of renting movies, now you're ready to rent a movie on iTunes. The process is straightforward and only requires an iTunes account. You'll need to enter a payment method such as your credit card or PayPal, or you can use an iTunes gift card that you can purchase online or at several physical stores. To rent a movie, follow these steps:
Click iTunes Store on the left pane on iTunes to open the store and click Movies at the top of the store window. Alternatively, you can type the movie title you wish to rent in the search box on the right corner of iTunes to view results for the title.
Use the Quick Links menu on the right to browse new releases, 99 cent discount rentals, HD movies or to search for movies by genre. Once you find a movie that interests you, click its title to view an overview of the movie and view its price.
Click Rent Movie under the movie's cover image and enter your login information for iTunes. Confirm when iTunes asks if you are sure you want to rent the movie. Your movie will then download, and you will see a Downloads option on the left pane. You can click that option at any time and double-click your movie to begin playback. Depending on your connection speed, you may be able to view the movie as it downloads.
How to View Your Rented Movies on Other Apple Devices
If you purchased your movie and want to watch it on the go, you can transfer it to your iPod, iPhone, iPad or Apple TV. If you have your iOS device configured to sync all movies from your computer, then you can simply sync again after the movie download completes. If you manually manage your media, you can transfer your movie to your device by doing the following:
Connect your device to your computer and wait for it to appear in iTunes. Once you see your device's icon, click the Movies tab on the device summary screen.
Locate your movie and click the check box next to its title. Click Apply at the bottom to apply your changes and begin the syncing process. Once the process completes, you're ready to view your movie on your device.