How Can You Connect iPod and iTunes if it is Not Syncing Music?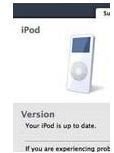 Warnings
Before we start, there are a few warnings you should be aware of. Your iPod is not just a gadget that plays music. It has software inside of it that allows it to play your music and sync with ITunes. That software is most likely corrupted if it is not syncing. So it has to be fixed. This fix will erase any music that is on the iPod. The first thing that you have to make sure of is that you really cannot get the iPod to sync on any computer. Remember that iTunes works on any PC or Mac.
First Step On the Mac
The first step is to erase the corrupt software. This is simple to do. Connect your iPod to your Mac with the cord that it comes with. Open up Disk Utility. It is located in the Utlilities folder. When it opens navigate to the iPod that shows up in Disk Utility. Once you click on it just navigate over to erase disk. Click on that. It will erase the corrupted software from your IPod. Once done you have a clean slate. Your IPod is now ready for the next step.
Second Step On the Mac
The second step once you have erased the iPod software is to reinstall the iPod software. You need to make sure that you have installed the latest version of iTunes on your Mac. If you have then it will show that your version of iTunes is up to date. If it doesn't show that you have the latest version of iTunes then you have to update the software. Just select update and wait for the software to be updated. Once you see that it is up to date then you are ready. Open up ITunes.
Your iPod will now show up. You should be ready for the last step. Once you see it then you are ready to move onto the next step. Then you can get back to enjoying your music.
Your Mac will have a window that pops up asking if you would like to restore the software. Select yes. It will now install a fresh copy of the software. This returns your iPod to default settings, so you can start from scratch.
Conclusion
Your iPod is now ready to load with your favorite tunes. Just make sure that you create a back up of your music. You don't want to lose your music because of corrupted folders. One other thing to keep in mind is that your Mac is different form the PC version. You cannot simply take the iPod back and forth from the PC to the Mac. Choose one and use it there. That is the easiest way to prevent this problem from happening to your iPod.
Resource: https://www.apple.com