Top Five Best Notebook Coolers for Macbook Pro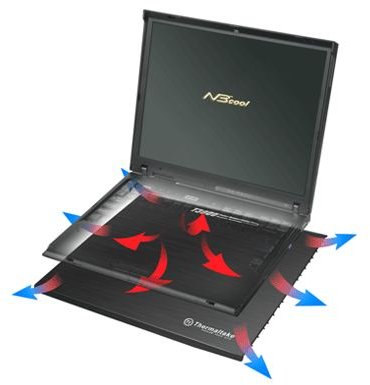 We all know that notebooks generate a lot of heat these days; the Macbook Pro is no exception. Those of us who have them are very familiar with the feel of hot aluminum burning into our legs. Fortunately, using a notebook cooler for your Macbook Pro will help you keep your machine running cool, which is important to protect your hardware and keep your applications running at optimum speed. This is especially important with apps that require a lot of your graphics power such as video games and graphic design software (Photoshop, Aperture, Maya, etc.).
There are literally hundreds of different kinds of notebook coolers. This list gathers five of the best; there are others that are just as good. Some of the factors that I've taken into account is how much the cooler actually lowers temperature, noise of operation, compatibility with Macbook Pro, and aesthetic appeal.
Thermaltake T3000
Thermaltake is a generally trusted name in computer cooling. While they offer many different kinds of coolers, I chose the T3000 because the aluminum design draws heat out very well, much better than plastic. Since the whole top surface is aluminum, heat will dissipate from the whole bottom of your Macbook Pro, which is good. The embedded Heatpipe unit will absorb the heat being blown out by the fan, but also takes out heat from the whole bottom of the notebook, which as we know gets rather hot. The T3000 has no fans, so it is silent and requires no power, saving you a USB port. It's priced reasonably at about $45.00 and supports up to a 15-inch Macbook Pro.
LUXA2 M3-Air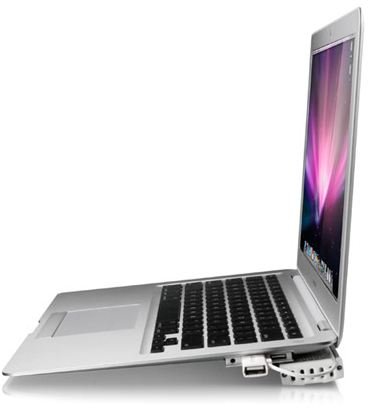 Although designed specifically for the Macbook Air, the M3-Air will fit the 13 and 15-inch Macbook Pro notebooks. This unit will help cool your laptop, but it does sacrifice some of its power to cool for portability and sleek design. The unit folds in half so that it takes only around 7 inches to store away in a computer case while traveling. If you're looking for something portable, this little device is a good way to go. While it lists for $79.99, many online retailers sell it for around $60.00.
Zalman ZM-NC2500 Plus

The Zalman ZM-NC2500 Plus is one of the best laptop coolers on the market right now; Macbook Pro owners would be wise to choose this cooler for hardcore heating issues, such as that which results from hours and hours of gaming or graphic design.
This product features two 50mm quiet fans as well as a mini docking station located in the back of the cooler. While it takes one USB port to run the fan, it includes a 3 USB hub, an optional AC power adapter (which I would recommend), as well as an expansion slot for an additional 2.5-inch hard drive that can be used for additional storage.
Logitech N100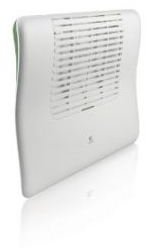 The Logitech N100 offers a sleek design that goes well with the aesthetic of the Macbook line. It's a jack-of-all-trades, but I wanted to include it on the list as an economical choice. I had this cooler for a while; despite some complaints by customers that they wear out too fast, I never had any issues with that, and I ran it for hours each day. The only reason I don't use it now is because I gave it to a friend. You can pick this up for about $30.00, which is half the price of most of the other notebook coolers listed here. This cooler also supports notebooks up to 17 inches.
Rosewill RNA-7600W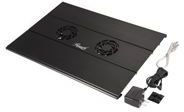 The Rosewill RNA-7600W features a simple, elegant design with two fans embedded under a solid aluminum, slanted cooling pad. Much like the Thermaltake T3000, except with the addition of fans for extra cooling, the Rosewill has performed well with the Macbook Pros. It comes with its own external power supply, which is always helpful to have so you don't run your battery life down operating fans. It's listed on the manufacturer's website for $64.99 and fits 15-17-inch notebooks.
References
Photos taken directly from manufacturer's websites. See links in articles.