How to Use iTunes Album Listing Options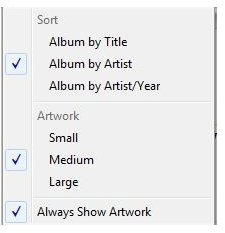 Purpose of iTunes Album Listing Options
While many users organize iTunes based on artist, song title or genre, this can be a difficult way to find the songs you want, especially on compilation albums. The iTunes album listing options allow you to display your entire collection by album title, including showing the artists and song titles on every album. The one downside to this feature is that albums with the same name may be combined or show a combination of song listings. For instance, two different albums named Hit Ballads may both show all the songs for the two albums.
If you want to edit a genre or multiple albums at one time, using the album view may be the best bet. Sometimes genre tags vary greatly, such as R&B showing up as R and B, RnB or RB. When you know the album, you can edit the genre on the entire album at once.
Using iTunes Album Listing
To use iTunes album listing options, open iTunes. Select the library you want to organize, which in most cases will be Music. Select the View menu. Select as Album Listing, if it's not already checked. This will place the album category as your main sort category. You can change the main view option at any time by selecting a category from the View menu, including List, Grid and Cover Flow. The only way to use the album listing options is by choosing Album Listing as your view option.
Press the Album by text at the top of the center pane to view different sort options for the album listing view. Options include Album by Artist, Album by Title and Album by Artist/Year. The first option organizes your albums in order by artist, while the second orders albums alphabetically by album title. The last option sorts albums not only by the artist, but by the year it was released.
You can view album artwork at any time to make your library more aesthetically pleasing by choosing pressing Album by and choosing Always Show Artwork. Album covers, when available, will be displayed.
In addition to sorting by album, you can further organize iTunes by choosing to sort in ascending or descending order in a variety of categories. By default, iTunes uses Name, Time, Artist and Genre. Right click any category to view additional categories, such as Bit Rate, Release Date and Disc Number. Click any category to sort by the category. You will remain in album listing view, no matter which category you sort by.
If you want to use a different view, but still organize by album, press the Album category heading. This will sort your collection in ascending or descending order based on the album title.
Consolidate Library
To ensure your entire library is utilizing the iTunes album listing view, consolidate your library. Please note that this places a copy of all your files in the iTunes media folder. Open iTunes. Select the Advanced menu and choose Consolidate Library. Accept the warning notice that appears and wait for iTunes to consolidate your library.